Fairy Tales Transformed?: Twenty-First-Century Adaptations and the Politics of Wonder
By Cristina Bacchilega. 2013. Detroit: Wayne State University Press. 296 pages. ISBN: 978-0-8143-3487-4 (soft cover).
---
Reviewed by Jeana Jorgensen, Butler University
[Review length: 939 words • Review posted on March 12, 2014]
---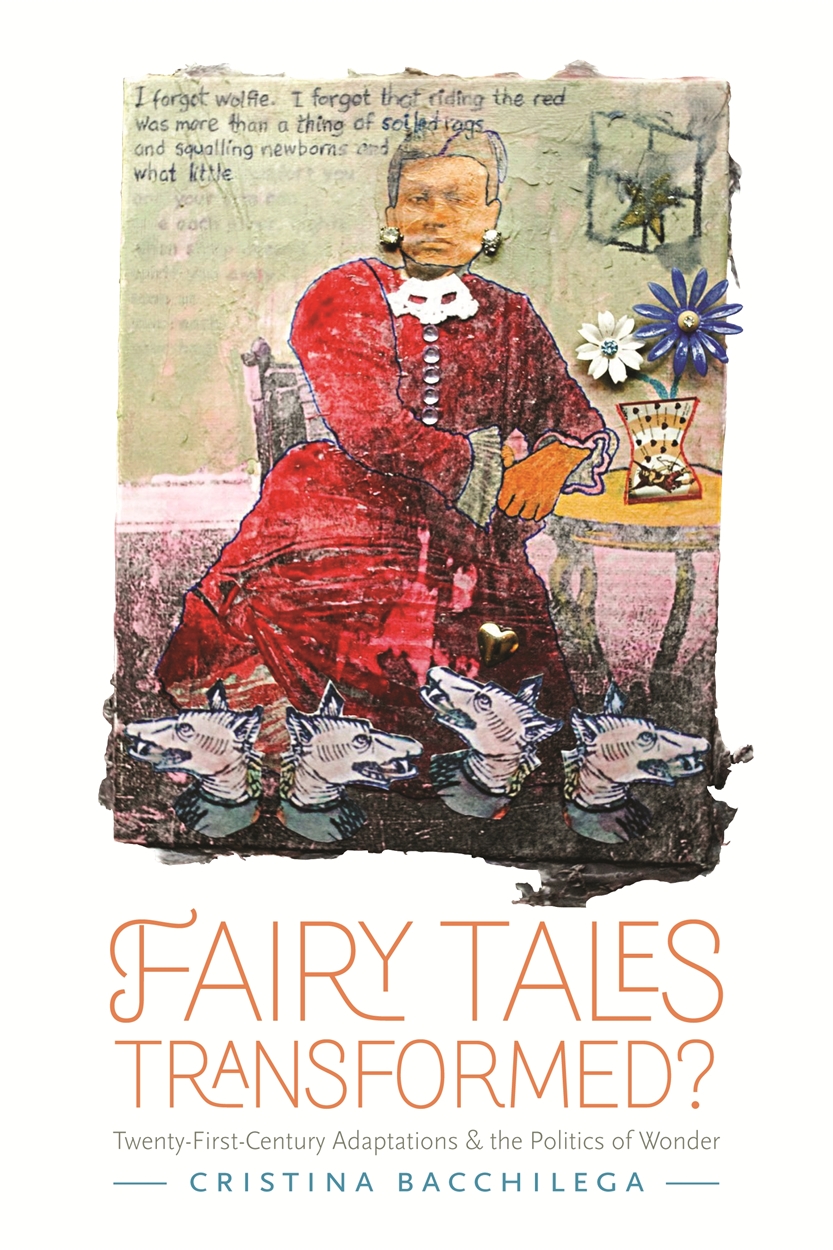 Cristina Bacchilega's newest book not only shares her recent scholarship on fairy tales but also provides a call to arms for fairy-tale scholars to be more cognizant of what fairy-tale adaptations do and for whom. Divided into four chapters, plus a substantial introduction and a terse epilogue, Fairy Tales Transformed? offers a critical overview of both recent fairy-tale scholarship and recent fairy-tale adaptations. The adaptations discussed range in popularity from ubiquitous to little-known, while the media forms include films, comic books, plays, TV shows, and short stories whose authors and producers occupy a range of international and transnational identities. Bacchilega's clear prose guides readers through this worldly web of texts, urging us to attend to what is at stake in these retellings, who holds access to power and resources, and how fairy-tale depictions of self and Other matter in politics as well as storytelling.
In the introduction, Bacchilega positions her fairy-tale scholarship as oriented toward transformations, globalization, intertextuality, coloniality, and the consequences thereof for various groups of consumers, authors, marketers, and so on. Readers familiar with her earlier work Postmodern Fairy Tales will encounter familiar names—Angela Carter, Margaret Atwood, Robert Coover—woven into an intertextual web with less canonical fairy-tale adaptation authors such as Nalo Hopkinson and Emma Donoghue. Bacchilega's attention to the multiplicity of fairy-tale functions and meanings complicates any facile reading of this chapter; I would urge interested parties to read it for themselves in order to get a sense of the nuances of Bacchilega's approach to fairy-tale adaptations.
Chapter 1 interrogates the textual strategy of adaptation, explored primarily through relocations of fairy tales that are retold as short stories, poems, and short films. By reading such disparate texts as Nalo Hopkinson's short stories in Skin Folk, Emma Donoghue's short story collection Kissing the Witch, and Dan Taulapapa McMullin's "Cinderella"/"Sinalela" adaptations in poetry and film, Bacchilega develops her argument that fairy-tale adaptations complicate the notion of adaptation since fairy tales already circulate as plural, making searching for "the" single hypotext impossible. Bacchilega refers to relocations as politicized remappings of texts, genres, and knowledges that have become normative, and each of the texts she analyzes in this chapter does exactly that, whether from a perspective on queer sexuality, indigeneity, or postcolonialism. Further, she argues that we do these texts a disservice by reading them solely as extensions of the Carter generation's adaptations. Rather, "these adaptations decenter the Perrault-Grimms-Disney normative canon to rethink the genre in its optative mood from counterhegemonic locations and in the interest of decolonizing the future" (72).
The second and third chapters showcase Bacchilega's engagement with fairy-tale films. In particular, the second chapter considers filmic depictions of books and reading, moral children, and gender roles. The main films analyzed are the well-known Enchanted and Pan's Labyrinth, and the somewhat newer (to American audiences) Bluebeard (French, 2009) and Hansel and Gretel (Korean, 2007). The films all "revisit and produce multiple images of the fairy-tale genre and its phantasmatic relation to our social world" (107), often complicating the gender politics contained within. In chapter 3, Bacchilega continues to work with films, urging us to consider how genres, even when remixed, create effects of reality and truth that resonate with viewers in the real world. Bacchilega weaves in her insights about Enchanted and Pan's Labyrinth with an analysis of Year of the Fish and Dancehall Queen, two independently-made Cinderella retellings that situate and remix fairy tales in ways that position them differently in relation to social reality, genre, and hierarchy.
Chapter 4 focuses on North American retellings that work with plots and characters from The Arabian Nights, highlighting issues of translation, representation, and Orientalism. The main texts Bacchilega analyzes are the TV series Once Upon a Time, the comic book series Fables, and the play The Arabian Nights, though she provides much helpful background about the textual history of The Thousand and One Nights. Bacchilega pays special attention to how The Arabian Nights has been translated into visual culture and how it constructs a relationship between history and fantasy.
In the epilogue, Bacchilega draws our attention to the politics of wonder, returning to questions of power and agency not just in the telling of tales, but also in scholarship on them. She mentions Ruth Bottigheimer's recent work as an instance of "how we conceptualize the genre's history in relation to a politics of inequality" (196), urging scholars to continue to decolonize the field of fairy-tale studies (to use Donald Haase's phrase for a recent and necessary turn in fairy-tale scholarship). Specifically, Bacchilega writes, "many of us in folktale and fairy-tale studies are aware of how buying into a European books-only history of the fairy tale means giving up on the social dynamics that keep people from all walks of life telling and retelling wonder tales across media, locations, and cultures" (201).
Perhaps Bacchilega says it best in chapter 4, when reminding us that we cannot read The Arabian Nights without an awareness of how these stories serve as contact zones between East and West, especially in the charged times after 9/11: "In whatever ways we can, we all—not just scholars, but artists, readers, fans, bloggers, and spectators—have a responsibility to counter this politics of inequality" (155). I agree that this is a responsibility that we share as citizens of the world, and I would argue that as fairy-tale scholars and folklorists, we are especially responsible for helping counteract the inequalities we witness in expressive culture and daily life. Not every work of scholarship manages to both provide an overview of recent genre transformations as well as scholarship thereon, while also issuing a compelling appeal to combat oppression, but Bacchilega's does.