Category: Music and Dance
The Show Must Go On!: Popular Song in Britain During the First World War (Ashgate Popular and Folk Music Series)
By John Mullen. 2015. Ashgate Publishing. ISBN: 978-1-4724-4159-1 (hard cover).
---
Reviewed by Jean Freedman, Montgomery College
[Review length: 624 words • Review posted on March 16, 2016]
---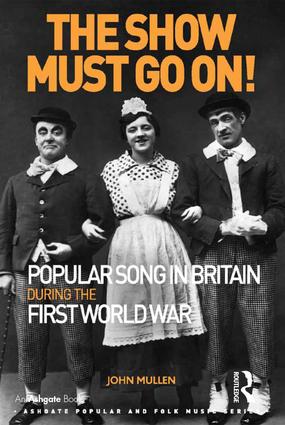 John Mullen's The Show Must Go on! Popular Song in Britain during the First World War is part of the Ashgate Popular and Folk Music Series. Mullen discusses a variety of musical genres – including musical comedy, hymns, socialist choirs, and folk song – but his primary emphasis is on music hall, then in its heyday, though it would soon be eclipsed by records, film, and radio. Mullen's research gives us a fascinating glimpse into a particular moment in British popular culture, the last time when live performance was the primary form of entertainment for the British working class. His book is packed with information about virtually every aspect of music hall: organization, working conditions, song lyrics, artists, artisans, and impresarios, as well as the massive changes wrought on this form by the First World War. For the scholar of popular music, Mullen provides a treasure trove of material.
The book is divided into six chapters interspersed with four brief portraits of music hall stars (Harry Lauder, Vesta Tilley, Marie Lloyd, and Harry Champion) and a brief conclusion at the end. Chapter 1, "Portrait of an Industry," provides a general introduction to the world of popular music during the First World War, with sections describing the history, organization, ideology, workers, and audience for a variety of musical activities. Chapter 2 describes the many musical genres that were available on the stage during this era. Chapter 3 takes a detailed look at the songs themselves. Chapter 4 examines relations between the sexes, both in the songs and on the music hall stage, and in society at large where wartime allowed an expansion of women's roles and first-wave feminists were agitating for birth control and the vote. Chapter 5 looks at songs written specifically for the war. Chapter 6 looks at forms of music other than music hall: hymns, folk songs, and soldiers' songs. Mullen provides a bracing discussion of the political context and meanings of the songs, particularly in chapters 4 and 5.
The Show Must Go on! breaks no new theoretical ground, and the theoretical research that it cites is scant and not always up-to-date. The book's great achievement lies in the massive amount of information it provides on the tightly focused subject of popular music, and particularly music hall, during the First World War. Scholars of music hall and of the popular culture of World War I will find this book invaluable. It will also appeal to scholars with a more general interest in British popular music or twentieth-century working-class culture. However, this narrow focus may also be the book's greatest weakness. Because of its detailed examination of a relatively narrow topic, it is unlikely to engage readers who do not already have an interest in the subject.
There are a few mistakes. For example, Mullen includes the song title "I Want to Go Back to Michigan" in a list of pseudo-"Dixie" songs. His section on folk songs relies almost entirely on the work of Cecil Sharp, yet he leaves the reader with the erroneous impression that Sharp's English Folk Songs from the Southern Appalachians was based on fieldwork done in Canada. The folklorist may also take issue with Mullen's assertion that music hall songs could change in response to the changes of the war years, while folk songs could not.
Finally, I wish that the brief interludes about music hall stars were longer and more detailed; in some ways, they are the most compelling parts of the book. Mullen's extensive research covers so many diverse topics that the human element – the experience of music hall performers and audience members – is frequently given short shrift. He gives free reign to this element in the interludes, and I found myself wanting more.