Category: Music and Dance
Geographies of Cubanidad: Place, Race, and Musical Performance in Contemporary Cuba (Caribbean Studies Series)
By Rebecca M. Bodenheimer. 2015. Jackson: University Press of Mississippi. 308 pages. ISBN: 978-1-62846-239-5 (hard cover).
---
Reviewed by Kristina Wirtz, Western Michigan University
[Review length: 1122 words • Review posted on February 17, 2016]
---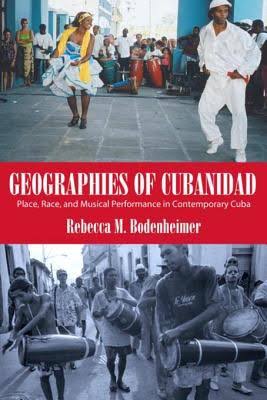 Without a doubt, Cuban music is, as Rebecca Bodenheimer says, "a prominent signifier of Cubanidad" on the island and internationally (3). But in its variety and richness, Cuban music refracts regional and local differences as much as national unity. In this multi-sited ethnographic study of contemporary Cuban music-making, Bodenheimer considers how regional, racial, and ethno-national identities are articulated through musical lyrics, genres, and histories. She makes a broad survey of popular and folkloric genres and artists, offering contrasts across three principal cities of Cuba: its capital Havana, nearby Matanzas, and the eastern city of Santiago de Cuba. As she outlines in chapter 1 and details in later chapters, these three emblematic, urban sites highlight topographies of power versus periphery, racialized belonging versus outsidership, and therefore the ways in which notions of place are mobilized for competing claims to authenticity.
As Bodenheimer perceptively argues, the role of regionalism and localism in Cuban discourses of place and identity has been neglected because such discourses challenge national unity under the Cuban Revolution—the ruling Socialist single-party government since 1959. Moverover, in invoking racial difference through spatial juxtapositioning, regionalism complicates Cuba's version of the widespread Latin American nationalist "myth of mestizaje" that marks and marginalizes Blackness even while insisting that racial and cultural hybridity, often marked by "Black" aesthetic forms, define the nation. Bodenheimer's analysis gives nuance to the workings of this ideology by showing how it masks but does not erase strong regional differentiation and the resulting competition over authenticity. While such competition among musicians is often playful—as in the series of "pullas" (insults) that she traces across the lyrics of well-known dance band recordings in chapter 2—the social tensions infusing place and identity are serious.
In asking how "music and place mutually constitute each other" (11), Bodenheimer also seeks to challenge sedentary and static, essentialist notions of place, instead highlighting a more mobile, relational approach to how "places" are constructed relative to one another, and how place-making shapes identifications. Her wide-ranging musicological analysis is infused with a sensitivity to the "politics of representation" that plays out through music and discourse about music, including musicological work such as her own. She is careful in her assertions, showing reflexivity in marking the limits of what her particular cases can support. What she provides is a textured, carefully argued series of case studies grounded in a combination of textual and musicological analyses of genres and performances together with oral history interviews and ethnographic data on musicians and ensembles across the island.
Chapter 2 begins the musicological analysis by analyzing expressions of regionalism in Cuban popular music. She traces a dialogue across a number of prominent songs recorded by internationally famous dance bands, Los Van Van, Orquesta Original de Manzanillo, Clave y Guaguancó, NG La Banda, and Adalberto Álvarez. The lyrics are not just about particular places, but commentaries on the value of those places, especially as traceable in often politically fraught migration patterns within the country (urban to rural; hinterland to capital). The bands' lyrics reference their own and each others' origins and relocations, while illustrating how artists manage to comment on fraught social issues, such as tensions between regions, within the political constraints of the Cuban Revolution and its emphasis on unity and positivity.
Chapter 3 explores the Black and Caribbean focus of regionalist sentiments in the eastern Cuban city of Santiago de Cuba through the repertoires of its renowned folklore ensembles, Cutumba and the Ballet Folklórico de Oriente, its Casa del Caribe research institute, and the Havana-based but originally Guantanamero Ban Rarrá. Bodenheimer points out that while eastern Cuban ensembles distinguish themselves with Haitian (and more broadly speaking, "Caribbean") genres associated with the "Oriente's" migration history, western Cuban genres such as rumba and Santería's sacred music are required repertoire across the island. In contrast to the prominence of African influences, indigenous (Carib) influences are erased. Bodenheimer helpfully reviews major musicological treatments of Cuban music to show how a particular biracial origin story tracing distinctive Cubanidad to a mixture of African and European aesthetic traditions came to define Cuban music. She compares this dominant narrative to the perspectives of eastern Cuban musicians she interviewed, allowing them to give voice to their perspectives on regional identity and musical style.
Chapter 4 introduces a consideration of the dynamic between the two neighboring western cities of Havana and Matanzas, allowing Bodenheimer to historically situate the widespread essentialized view of Matanzas as the "cradle of Afro-Cuban culture." She productively compares longstanding discourses about Matanzas to Jacqueline Nassy Brown's (2005) analysis of race, place, and history in casting Liverpool to the margins of empire in England. Here too she draws upon interviews with musicians, in order to show "how musicians' local identities inform their artistic perspectives" (124). Discourses of authenticity redraw lines of racial difference, marking Matanzas as "Black" in contrast to racially hybrid Havana. These discourses cast Matanzas as a locale of preserving history, while Havana is allowed, even expected to be a site of innovation.
In chapter 5 (my favorite) Bodenheimer further deconstructs these hegemonic discourses by showing how innovation in both Havana and Matanzas draws on situated, specific practices of hybridization. This chapter also develops a sophisticated argument that problematizes the "acritical celebrations of hybridity" (160) characterizing Caribbean and Latin American nationalist discourses and scholarly interventions alike, and instead argues that choices to innovate through fusions of distinct genres and styles are always deliberate and situated within particular, often localized, notions of what is possible and permissible, themselves coming out of histories of artistic participation. Her case studies are two widely acclaimed hybridizations of rumba: the batarumba style pioneered by the group Afrocuba de Matanzas in the 1970s and still elaborated on today, and the guarapachangeo style, also created in the 1970s by the Chinito brothers of San Miguel de Padrón, a marginalized outlying neighborhood of Havana, from which it spread into the repertoires of major rumba groups in central Havana, such as Yoruba Andabo. The story she tells is compelling, showing ongoing innovations incorporating such contemporary and transnational forms as reggaeton and cumbia and such historically important genres as flamenco and Célia Cruz's repertoire.
In chapter 6 Bodenheimer reprises arguments about the intercalation of race and place-making, now applied to the dynamic between the emblematically Cuban genres of rumba and son. Here, Bodenheimer reconsiders the different resonances of "authentic and pure" Matancero Blackness counterposed to "foreign and polluting" Oriente Blackness, arguing that the Oriente is better understood as a zone of racial hybridity. It is precisely in tracing out the complex and labile calculus of race and place in Cuban music that Bodenheimer's book makes such a satisfying contribution.
Work Cited
Brown, Jacqueline Nassy. 2005. Dropping Anchor, Setting Sail: Geographies of Race in Black Liverpool. Princeton: Princeton University Press.