Category: Material Culture
Costume: Performing Identities through Dress
By Pravina Shukla. 2015. Bloomington: Indiana University Press. 336 pages. ISBN: 978-0253015778 (soft cover).
---
Reviewed by K. Brandon Barker, Indiana University
[Review length: 942 words • Review posted on October 27, 2015]
---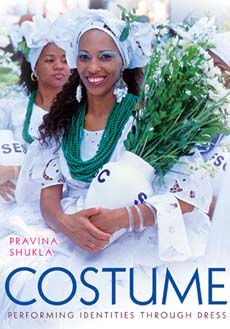 We recognize a costume because it differs from its wearer's everyday dress. In its separation from daily routines, Pravina Shukla explains early in her introduction, "[costume] is often described as the clothing of who we are not" (3). Everyday dress, in this line of thinking, "is who we are." Shukla then spends the rest of her fine book, Costume: Performing Identities through Dress, deconstructing and refuting erroneous dissociations between costume and self. She argues, instead, that costume intentionally projects a chosen version of the self, recasting the relationship between manifest identities in daily dress and the elective identities "brought to the fore by costume" via a markedly folkloristic analogy: "Costume is to daily dress as ritual is to daily life—heightened in beauty, power, and meaning" (269).
As a socially performed genre, costumes demand visual attention. The same can be said for Costume; the book features seventy photographs—most taken by Shukla and fellow folklorist Henry Glassie. Whether a portrait of a twenty-first century Midwestern university student posing proudly in her homemade replication of a fourteenth-century French kirtle or an action shot of contemporary Confederate soldiers dutifully marching during a reenactment of the first Battle of Bull Run, Costume's striking images reinforce the notion that costume heightens self-perceived beauty as much as it garners social attraction.
The first chapter centers on Filhos de Gandhy, a much respected, all-male carnival group in Salvador, Brazil. The "Sons of Gandhi" were founded by dockworkers with the intention of honoring Mahatama Gandhi, one year after India's great leader for social justice was assassinated in 1948. For members of Filhos de Gandhy, their namesake's life and work "serve as a model for the Afro-Brazilian struggle against discrimination" (20). Focusing symbolic intent, Filhos de Gandhy's "exotic, beautiful, and bejeweled" costumes blend African and Indian aesthetics. Opposite Shukla's initial description of the white and blue costume "kits"—strappy plastic sandals, a white tunic, blue sash, a white turban, and images of Mahatma Gandhi surrounded by Yoruba orixás—the reader sees a full-page photograph of group member, Elsimar Lima, wearing his white turban which features a large blue, flowery jewel (22). In the photograph, Elsimar Lima looks at himself in a mirror as he judges a pair of sunglasses he may purchase for the opening parade. The juxtaposition of social image and self-image deftly reflects Shukla's arguments for costume as elective identity.
After the initial presentation of the Filhos de Gandhy kits, Costume's central chapters consist of an additional five ethnographically grounded case studies: chapter 2, folk costumes worn in Sweden's Leksand parish; chapter 3, renaissance and medieval costumes worn by members of the Society for Creative Anachronism; chapter 4, American Civil War reenactors' costumes; chapter 5, historical costumes worn by employees at Colonial Williamsburg in Virginia; and chapter 6, performance costumes presented on the theatre stage. Each case study stands on its own, providing specific, detailed insights as to the intentional display of costume. Taken together, the case studies provide a robust data set from which Shukla identifies several cross-culturally realized "categories of motivation" that give rise to costumed performance. These are sociability, heritage, protest and spectacle, education, and artistic creation.
Costume earns these generalizations. Throughout, Shukla attends to specific examples of personal motivation as she and her consultants productively parse key elements of the complex, discursive realization of the self. Jarrett Diamond, a member of the Society for Creative Anachronism, explains how his own view of his body remains intricately tied to the way his Spanish renaissance costume fits: "He owe[s] it to himself—and the garment—to look good in it" (123). Civil War reenactor Frank Orlando connects the outward portrayal of his Robert E. Lee costume and persona with his personal feelings toward truth and honesty: "Frank, a retired schoolteacher from Pennsylvania, admires General Lee as a religious and moral man, a loyal and loving husband, and a much admired leader who sent out specific orders to his men not to rape, pillage, plunder, or steal while in the North" (157). Kersti Jobs-Björklöf, a prolific historian and collector of Swedish costumes, follows the traditional specifications for her costume, even, for example, when emic meanings attached to calendrical variations of the costume are lost on the etic perspectives of gazing tourists and outsiders (86). Actress Ellen Adair, once tasked, as a female actor, with playing the role of a boy who plays the roles of women in Amy Freed's The Beard of Avon, notes the recursions of psychological posturing and embodied proprioception that accompanied her costume's balloon breeches (for the male character), which also served as a crinoline slip (for the female character):
The pants that doubled as crinoline kept [Ellen Adair's] legs apart and "proved, then, a difficulty that I had to work with when I was playing a woman. So I had to work on other ways to make that physicality of the woman that I was actually playing to be very different, without actually being able to put my legs together." Those pants were a bit too big around Ellen's waist, providing another, but unintended, gift to the physical work she had to do for the role. Ellen as Geoffrey would pull up the pants, and that "became the primary gesture of my character." (222)
Costume offers a window into the layers of the wearer's self(s).
Few genres (if any) are more intimate with our bodies over extended periods of time than dress. For folklorists and material culture scholars, Costume adds to our catalogs of specially embodied genres of art and of folklore, and in her study of those contexts in which dress takes on heightened beauty, power, and meaning, Shukla's work provides a welcome, empirically grounded study of bodily aesthetics.