Curatorial Conversations: Cultural Representation and the Smithsonian Folklife Festival
Edited by Olivia Cadaval, Sojin Kim, and Diana Baird N'Diaye. 2016. Jackson: University Press of Mississippi. 352 pages. ISBN: 978-1-4968-0598-0 (hard cover).
---
Reviewed by Maggie Holtzberg, Massachusetts Cultural Council
[Review length: 1824 words • Review posted on February 15, 2018]
---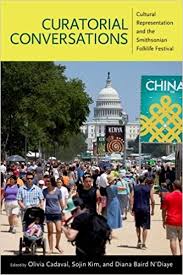 In July 2017 the Smithsonian Folklife Festival celebrated its fiftieth anniversary. The book under review was conceived in anticipation of this anniversary. The ten-day annual Festival presents music, dance, craft, foodways, occupational skill, and ritual practice, always striving to recreate contexts in which these cultural traditions naturally occur. Visitors over the years have watched Kentucky tobacco being planted, timber framers at work, home cooks preparing ethnic food, Mariachi musicians performing alongside churros (cowboys), and railroad track-laborers singing work chants, with lining bars in hand.
Held in our nation's capital on the symbolically charged National Mall, the Festival has gained worldwide recognition as a model for community-based research, intercultural dialogue, cultural equity, and shared authority in staging living cultural heritage. Presented by the Smithsonian Center for Folklife and Cultural Heritage, it is common knowledge amongst folklorists and other cultural specialists that many working in the field of public folklore today had formative experiences working for the Festival. As co-editor and Smithsonian curator Diana N'Diaye remarks, "Many folklorists saw the Festival as the midwife for public folklore practice" (276).
Curatorial Conversations contributes to the growing body of critical writing about public folklore and the complexities of staged cultural representation. The hardbound book brings together fourteen essays written from the perspective of past and present festival curatorial staff. It is a fascinating look into the theory and practice of festival curation over the past half-century.
The book is organized into four parts: Early Vision and Transformations, Collaborations and Cultural Politics, The Poetics of Representation, and The Festival as Catalyst. The preface by C. Kurt Dewhurst and Marsha MacDowell provides helpful background on the shifting roles of museums in society and the changing role of curators from being primarily caretakers of collections (conservation) to being catalysts for civic engagement (conversation).
After exploring Ralph Rinzler's founding vision for the Festival, Robert Baron's prologue touches on the multiple mediations that continue to take place in the planning, framing, staging, and interpretation of Festival programs. He commends the deep reflection and self-criticism by Smithsonian Folklife curatorial staff that has refined and developed its practice over decades as the staff learns from challenges and mistakes, such as learning to be less didactic and more engaging as presenters or how to successfully resist the demands of government or corporate partners in shaping programs.
Olivia Cadaval and Sojin Kim, the book's other co-editors who are also curators at the Center, provide the introduction for the essays that follow. Readers get a feel for what distinguishes the Smithsonian Folklife Festival, including the research-based nature of the curatorial work, which always includes community scholars or folklorists working in the local region, and the sensitivity surrounding the public exhibition or representation of culture. The book includes an impressive list of folklorists, historians, educators, and other cultural specialists who have contributed to this truly collaborative effort over so many years. Their combined expertise makes for good reading.
Jack Santino recounts Ralph Rinzler's guiding principle for the Festival--the cultural validation of often marginalized arts and artists--which sets the curatorial tone going forward. The early years of the Festival broke new ground by conducting field research to find the best possible representatives of a chosen traditional art, by juxtaposing several different cultural groups, and by staging more intimate performance settings. Santino acknowledges that there is plenty of anecdotal evidence of the Festival's positive impact on participants returning back to their home communities, but he notes that systematic research on this has yet to be done. In recounting the early days of the Festival and subsequent programs focusing on family and occupational folklore, Steve Zeitlin writes about the impact the Festival, with its focus on telling one's story, has had on American popular culture.
Dan Sheehy reflects on the values, purposes, and practices at play during his own curatorial work with Mexican musicians in the 1970s. He acknowledges the presenter's challenge of how to convey insider knowledge without falling prey to ethnic stereotypes. Noting the need to recruit more community members to explain cultural meaning, Sheehy reminds us of the Festival's most distinctive feature, which, in the words of former Center director Richard Kurin, is "its attempt to foreground the voices and tradition bearers as they demonstrate, discuss and present their culture" (59).
Frank Proshan offers two case studies from his work. The first focuses on what led to the 1972 Baltimore Greek program, which ended up including a four-hour Olymbos glendi (a highly structured ritual celebration), which drew Greek Americans from Baltimore and Washington. His recounting of the work that went into the 1987 Lao American program and the restaging of a Boun Bang Fai rocket festival is a testament to the creativity and resourcefulness of curatorial work. (One of those judging the rocket competition was a Smithsonian curator from the National Air and Space Museum!)
Richard Kennedy addresses the challenges curators face working with highly charged political relations, where serious political differences and a history of conflict exist. His essay looks at some interpretive strategies that program teams developed to address these challenges in working with a variety of Festival programs, such as The Silk Road: Connecting Cultures, Creating Trust (2002) and The Mekong River: Connecting Cultures (2007). Another take on this kind of challenge is offered by Cynthia Vidaurri, who writes about research for a Cuban program, which began in 1994 and is yet to be realized due to complicated relations between the United States and Cuba.
James Deutsch shares his experience working to present domestic government agencies (e.g., the US Forest Service, NASA, and the Peace Corps), recounting anecdotes in trying to avoid micromanaging by public relations staff and agency administrators.
While promoting the active engagement of tradition bearers in the curatorial process, Olivia Cavadal relates how things can get messy when the Festival is actually under way. She describes some tense interactions between participant groups over the use of space on the Festival grounds and relates interesting examples of how cultural identity was contested and negotiated.
Marjorie Hunt begins her essay by sharing a wonderful story about master stonecarver Roger Morigi who had worked on the Washington National Cathedral. During a workshop, an audience member asked if he had worked on any other D.C. buildings. Morigi pointed to the larger-than-lifesize, carved female figure adorning the Commerce Building on Constitution Avenue, just off the Mall. He received a standing ovation. Hunt reminds us that how culture bearers are presented and interpreted is the key to success. Can they engage and interact with the public and with one another? Can they be heard? Using three past Festival programs, Masters of the Building Arts (2001), Carriers of Culture: Living Native Basket Traditions (2006), and One World, Many Voices (2013), she gives tangible examples of hands-on activities, signage, and pop-up presentations.
Using his experiences working on the Bristol Sessions Country Music Program, Jeff Place provides useful information on how to scale back an ambitious festival program when resources are limited. Without having to build expensive infrastructure, planners conceived of a way to populate the area by creating a "parking lot" jam-session picking area with picnic tables. They also recreated a famous mural that was originally painted on a building close to where the 1927 Bristol recording sessions took place.
Betty Belanus explores what can be gained by curators putting themselves in the visitors' shoes. Using "Teaching for Understanding," a guide developed for classroom use that aims to help students reach deeper levels of understanding, Belanus and her colleagues take a critical look at the 2008 Bhutan Program. They develop a framework for describing and analyzing visitor engagement with the hope of improving future efforts in curatorial practice.
Amy Horowitz is intentionally inconclusive in her essay about her involvement on the Jerusalem Program, which like the Cuba Program, involved working in politically charged territory. It has been twenty-five years since the Jerusalem Program was conceived, postponed, and eventually reborn at Ohio State University, but it has yet to take place on the National Mall.
Using her experiences working on the 1997 African Immigrant Folklife and the 2013 Will to Adorn programs, Diana N'Diaye shows the value of deep community involvement in researching and developing festival programs. The training of youth and community-based groups to research their own expressive culture led them to organize their own folklore projects. It's a shining example of shared ownership of the curatorial role.
James Early's epilogue reflects back on the key players and early guiding principles of the Festival, noting that the multi-voiced volume is a window into how cultural heritage policy was formulated, diffused, and is continuing to evolve. He suggests that we scrutinize legacy terminology (living exhibition, curator) which grew out of a nineteenth-century institutional ethos. While his writing might be less accessible to the lay reader than the rest of the book, he asks good questions, such as, "What motivated so many prominent people in folklore and folklife festival work to be…passionately associated with cultural, social, and economic justice and public inclusion?" (321).
The book is rich with thoughtful reflections and honest self-criticisms; it also captures the magic that occurs when the Festival is at its best. Most useful are the essays that describe the process and interactions involved in attempts to share curatorial authority. We witness the evolution of festival curation from the early days of putting living culture on display to the recent era in which cultural practitioners form an integral part of the curatorial dialogue. That said, no one addresses how the Festival's early focus on individual states and regions in the United States has shifted toward representations of cultural groups from abroad. It would have been helpful to have included a chronological listing of all the Festival themes and programs, beginning with the very first in 1967. One minor complaint--a handful of the photos are not dated. The book also would have benefited from some color images.
I welcomed the opportunity to read (and review) a book devoted to conversations about festival curation, not only because of my own work in this area, but also because of what the book conveys about how far our field has come in the work of staging cultural representation beyond simple celebration. I came away with renewed respect for the groundbreaking work that has taken place over the past half-century by the Smithsonian's Center for Folklife and Cultural Heritage staff, community scholars, and cultural participants.
I highly recommend this book for anyone involved in teaching, producing, or attending festivals that frame and represent traditional culture. The book encourages us to expand our thinking and dialogue about how cultural knowledge, competence, and artistry are best shared with the public (who are most likely cultural outsiders). It is also worth noting that the book was recognized by the Smithsonian Institution, when it received a 2017 Secretary's Research Prize presented by Secretary David J. Skorton and organized by the Smithsonian Congress of Scholars. The pan-institutional prize recognizes excellence in recent research by the Smithsonian Institution's employees.