Peggy Seeger: A Life of Music, Love, and Politics
By Jean R. Freedman. 2017. Urbana: University of Illinois Press. 368 pages. ISBN: 9780252040757 (hard cover).
---
Reviewed by Patrick Ryan
[Review length: 901 words • Review posted on February 15, 2018]
---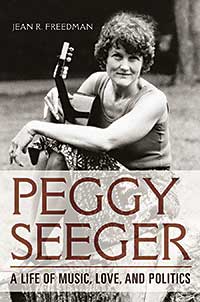 This comprehensive overview of Peggy Seeger's life also serves as an absorbing history of the folk music revival. Jean R. Freedman provides the usual pertinent as well as lesser-known details that make any successful biography, with information gleaned from her subject and Seeger's extended family, friends, and acquaintances. As a participant of the folk scene in her youth, Freedman began an acquaintanceship with Seeger that, renewed over years, grew into a close friendship (which Freedman acknowledges in her introduction). Given access to a wealth of resources through conversations, interviews, and countless private papers and public documents, the author successfully places the events and artistic oeuvre of a multifarious life in sociocultural and historical contexts. As a folklorist, Freedman manages enormous detail with a clarity and honesty that absorbs the reader. This is no hagiography, though the author clearly admires the artist and her work, nor is it an affectionate light-hearted laudatory summary of a life. It provides insight into folk music and the folk revival, which makes the publication of interest to any reader, whether a neophyte or veteran on the folk music scene, or a scholar of twentieth-century popular culture.
Freedman succeeds through prose as approachable and entertaining as Seeger's lyrics and informal, intimate performance style. The book is a page-turner, particularly (for me) the first half that presents Seeger's early life and development within the context of her family history, especially with regard to her parents' ground-breaking work, and then Seeger's initial years of independence as an undergraduate and then burgeoning performer and fieldworker on tour in post-war Europe. Freedman skillfully connects and contrasts Seeger's development as an artist with the practices of her parents and siblings, and also with a wide array of political and cultural movements--specifically in music, of course, but also in relation to education and other arts. She does so by exploring Seeger's and, when appropriate, the other Seegers' uses of folk music to explore or drive change in race relations, feminism, class struggles, and domestic and international politics over the decades.
The second half of the biography outlines Seeger's relationship with Ewan MacColl as well as their collaborative work and especially her individual professional practices, and also their numerous collaborations in the British folk, theatre, and media scenes. It also traces Seeger's developing political and feminist consciousness. This section is a proficient but packed report on a lot of life experiences, with slightly less discussion of causes and effects in social, cultural, or political terms compared with the first part of the book. It would not be fair to describe this part as a summary--Freedman does well in her continuing analysis of experiences contributing to Seeger's development as an individual and an artist, their impact on her repertoire and performance style, and, in turn, its influence on MacColl, other artists, and the development of the folk scene. I have to confess, having arrived late on the British scene myself, in a way similar to Freedman although half a decade after, I found this section enjoyable and disconcerting at the same time. Knowing some of the other actors in the British Folk Revival and their views of many events and ideas covered here, I was obliged to rethink my own understanding of the past, which is no bad thing. Freedman's is an accurate account, but like the Irish proverb there are two versions of every story and twelve versions of every song; and her version, and her reports of others' versions of events I witnessed or heard of, prompted a mix of memories and new questions regarding what I know of the work and experiences of my contemporaries on the folk scene.
Which reveals the strength and importance of this volume. Freedman could have ended with the twentieth chapter, where she summarizes Seeger's life, thoughts, and outputs in latter years. But instead she concludes with an essay responding to the question, "What Is a Folk Revival?" This final chapter echoes questions put, and partially answered, earlier by her analysis of Seeger's life and art. Questions such as: What is a folk song? What is tradition? What is authentic? But here she summarizes recent scholarly literature on folklore and the folk revival produced by both folklorists and cultural critics. Rather than resolve anything or provide definitive answers, her biography of Seeger becomes an object lesson letting us know that such questions must be regularly returned to, explored, and challenged. This is due to the depth and richness of any content we recognize as folk music or folklore, a repertoire continually added to and which can be seen in a new light in every iteration, whether in artistic or social performances, or in scholarship. As Freedman acutely observes, "The anxiety about cultures disappearing--the anxiety that created the concept of folk culture in the first place--is perhaps a false anxiety. The very factors that threatened to obliterate folk culture--growing capitalism and growing literacy--also fostered its preservation and its revival" (303). This could be an uncomfortable truth for those most active in combining folk arts and politics who believe that their work counters capitalism and champions--or romanticizes--the lesser educated or empowered.
Inherent contradiction and paradox in folklore performance and study is partly handled by strong publications such as this one, which joins recent biographies of mid-twentieth-century folk revival artists, and which will stand well amongst future biographies on other cultural actors of that time, which are surely yet to come.