Folk Masters: A Portrait of America
By Barry Bergey (text) and Tom Pich (photographs). 2018. Bloomington: Indiana University Press. ISBN: 978-0-253-03233-1 (hard cover).
---
Reviewed by Steve Siporin, Utah State University
[Review length: 618 words • Review posted on May 15, 2018]
---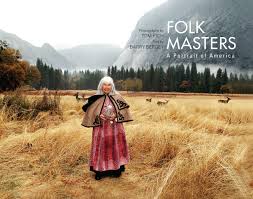 Folk Masters is a beautiful coffee-table book filled with large, rich, color photographs of outstanding American folk artists--one hundred of the National Endowment for the Arts National Heritage Fellows. I intend "coffee-table book" in a descriptive, not a pejorative or superficial sense: an oversized book in which photographs, rather than text, dominate. This "Portrait of America" adds up to a positive vision of our country as ethnically, culturally, and artistically diverse, a land of harmony and beauty, of thriving traditional arts. Folk Masters displays an upbeat, alternative America, in contrast to the generally grim, usually homogeneous picture broadcast daily on the news and mass media.
Employing a horizontal layout that maximizes the visual impact of the photos, Folk Masters communicates the heart of its message through Tom Pich's images. Each artist is treated on two facing pages; one is a full-page photo of the artist, and opposite the photo is a page of text. The text talks about the artist, his/her art form and community, and includes anecdotal information about the shooting of the photo and the interaction between the artist and the photographer. The artists are usually posed looking directly at the camera from within an appropriate setting--among their artworks, a place in nature important to their culture and work, or a performance venue. The 300-400 word text on the facing page also features a memorable quotation from the artist in large font.
Barry Bergey, former Director of the NEA Folk and Traditional Arts Program, has written a fine introduction. He tells the story of Tom Pich's labor of love--many long trips over the course of a quarter century to photograph 215 of the Heritage Fellows in their homes and communities. Bergey also provides the necessary background information to understand what the designation National Heritage Fellow means and how this NEA program came about and developed.
My advice to the reader is to peruse the photos and read the texts a few artists at a time. Savor the beauty of the photos, introductions to these fascinating lives. No matter how expressive the images and engaging the lives, reading about one hundred artists in succession would be a bit like reading a collection of folktales in one sitting: they tend to blur together and lose their individuality. One needs to take a little time to absorb, to imagine, to feel, and to appreciate.
One question I had was how the one-hundred artists featured here were selected from the over 400 National Heritage Fellows who had been named by 2016. Certainly these are not intended as "the best of the best" since the National Heritage Fellows are regarded as equal in their excellence, though utterly diverse in their incomparable arts. It appears to me that the artists were chosen (from among the 215 that Pich had photographed) to demonstrate ethnic, regional, gender, and artistic (music, dance, craft) diversity, and to include artists from among every year's recipients, 1982-2016. The authors also honor those National Heritage Fellows whose portraits do not appear here by appending a list of all the recipients, year by year, at the end of the book. This list is also a service for readers. Still, for those who want to know more about any of the artists, their traditions, and their communities, it would have been helpful to have provided guidance in the form of a selected bibliography of works about the artists, or even just a mention of the NEA Folk and Traditional Arts website (https://www.arts.gov/honors/heritage), where fuller bios are available.
Folk Masters is visual, emotional, and inspirational. Here is a portrait of America many Americans never see and may not believe actually exists. Pich and Bergey have done an admirable job of conveying their vision.