The Blue Sky Boys
By Dick Spottswood. 2018. Jackson: University Press of Mississippi. 256 pages. ISBN: 9781496816405 (soft cover).
---
Reviewed by Richard Jones-Bamman, Eastern Connecticut State University, Emeritus
[Review length: 983 words • Review posted on September 25, 2020]
---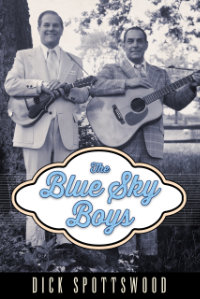 Rather than a definitive biography of the Blue Sky Boys (Bill and Earl Bolick), Dick Spottswood's new book is closer to a curated memoir of this country music duo, who were most active in the 1930s and 1940s. As Spottswood describes in his preface, he entered this project at the behest of the Bolick family in 2010, intending to create a typical third-person narrative, but changed direction once he gained access to a wealth of written accounts and interviews created and collected by the elder brother, Bill (xiv-xv). Spottswood's position thus became more that of collaborator and editor, stitching together the story of this famous musical duet, albeit primarily from the perspective of only one of the participants. Consequently, Earl Bolick's voice is notably absent, although his contributions are acknowledged as much as possible, given the materials Spottswood has to work with.
This approach in no way limits the significance of this publication, however, for the descriptions Bill Bolick provides of life as a performer are invaluable historical documents, charting both the pre-WWII era when old-time country music was still fashionable, and the impact that postwar shifts in instrumentation and songwriting had on the industry as honky-tonk became more popular. The Blue Sky Boys fit perfectly in the earlier period with their close duet-harmonies, self-accompanied on guitar (Earl) and mandolin (Bill). Their choice of songs evinced deep roots in the church and rural life, which appealed to audiences spread across the South. Yet, this was a highly competitive business, as Bolick makes clear with details of the group's continuous movement from one radio station to another, never quite finding the sponsorship that would have meant greater financial stability. Sandwiched in between daily broadcasts, the duo maintained a rigorous schedule of live appearances, typically driving long hours into surrounding communities in hopes of expanding their audience base. Given the group's itinerant nature, Spottswood is to be commended for his deft editorial approach, controlling what might easily have descended into confusion over myriad radio stations and locales listed in Bolick's descriptions. To aid in this process, the author provides a succinct chronology at the end of book, listing each change of venue and the corresponding dates.
As the new sounds emerging from Nashville studios came to dominate the postwar era, the Bolick brothers found themselves caught between their preference for older familiar songs and the newly written material that their record company (RCA Victor) was more interested in pushing. Here, Bill Bolick's observations offer insight into the conundrum that other older country musicians must also have faced at that moment, i.e., how to remain viable in this new market where publishing rights held sway in recording decisions. The Blue Sky Boys ultimately compromised by recording what their label demanded of them, but continued to perform their earlier material on radio and in live appearances, an approach that aligned with both their preferences and those of their loyal audience. Ultimately, however, the strain this engendered was too much and the Blue Sky Boys disbanded in early 1951 rather than abandon the music that had nurtured them since childhood.
In the last two chapters of the biographical section, Spottswood describes the various attempts to reunite the Bolick brothers with varying degrees of success. They recorded again in the 1960s and the 1970s and participated in a few folk and bluegrass festivals, but it is evident that these activities were mostly in keeping with Bill's wishes. Spottswood treats this situation with delicacy, but one would like to have heard more about this from Earl Bolick's perspective. Unfortunately, unlike his older brother, Earl distanced himself from his musical past and rejected attempts to discuss his career before his death in 1998 (119).
Two detailed appendices follow the biographical content, adding significantly to the research potential of the book. Appendix One is an annotated, alphabetically organized list of all the songs the Blue Sky Boys recorded for both publication and broadcast purposes. Each entry includes information about the original source (print and/or recorded), date of the Blue Sky Boys recording and the label or radio studio involved, a list of similar recorded performances by the Blue Sky Boys' contemporaries, and the date and label of its reissue where applicable. Throughout this section, Spottswood adds comments Bill Bolick previously supplied about individual songs during a series of interviews with Gary Reid of Copper Creek Records for a reissue project in the early 1990s (123). During the height of the duo's career, especially during live appearances and radio broadcasts, they were frequently joined by one of several fiddlers, who contributed both a third voice and an instrumental dance tune or two for variety. These fiddle tunes are included in the annotated list with similarly detailed treatment.
Appendix Two contains a chronologically organized discography, separated into recordings made for commercial release and transcription discs made for broadcast purposes at stations WGST (Atlanta) and WCYB (Bristol), between 1946 and 1949. As in Appendix One, Spottswood goes into meticulous detail, providing dates, location, producer identification, and reissue information whenever possible. This last detail in particular demonstrates the remarkable popularity of the Blue Sky Boys across generations and continents, since much of their recorded output has been reissued regularly in differing collections and formats here in the United States, Europe, and Asia.
This book comes highly recommended for readers interested in the country music industry at a time of transition from its rural roots to the increasingly urban sounds of the post WWII era, as experienced by one of the more popular acts spanning the 1930s and 1940s. Bill Bolick's personal accounts of this period, coupled with the detailed appendices, yields a valuable resource for country music scholarship. As mentioned above, the paucity of information about Earl Bolick and his contributions to the Blue Sky Boys means the story remains one-sided, but this was clearly beyond the author's control, given the materials he had to work with.