High Mas: Carnival and the Poetics of Caribbean Culture
By Kevin Adonis Browne. 2018. Jackson: University Press of Mississippi. 256 pages. ISBN: 9781496819383 (soft cover).
---
Reviewed by Stephen Stuempfle, Indiana University
[Review length: 1072 words • Review posted on May 6, 2019]
---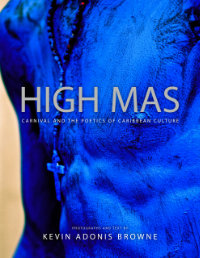 While the masquerades (mas) of Trinidad's famous pre-Lenten Carnival have inspired many academic studies since the 1950s, there is nothing quite like this new book by Kevin Adonis Browne, a Trinidadian scholar of rhetoric and a photographer associated with the University of the West Indies, St. Augustine. To date, most researchers have offered general overviews of the wide variety of masquerades that appear on the streets during the two days before Ash Wednesday, or have carried out systematic analyses of particular mas types. Browne, however, eschews comprehensive reporting and instead selects a small number of masquerades and a handful of practitioners as catalysts for the consideration of broader themes. Moreover, his approach is unabashedly subjective, meditative, and evocative, in contrast to the documentary realism that has characterized most examinations of Carnival. The result is a deep account of the materiality and symbolism of mas in relation to Trinidadian social experience, presented in several essays and four series of color and black-and-white photographs.
Browne's main objective in this book is to define what he calls a "Caribbeanist Photography," explicate what this perspective can reveal about the Trinidad Carnival, and demonstrate its practice with his own images. Essentially, he argues that, while colonialist photography has exoticized, objectified, and stereotyped the region's people, Caribbeanist Photography is based on close interaction and engagement with its subjects and grounded in the particularities of their lives. It is a visual method that affirms subjectivities and aspirations in locales fractured by the brutalities of Caribbean history and is potentially liberatory in offering new ways of seeing and understanding. Carnival masquerades provide an ideal opportunity for such explorations, given performers' displays of imagined versions of themselves in public spaces. In reflecting on his photography, Browne narrates encounters with various masqueraders and his ongoing efforts to obtain a sense of their lives and creative work. He proposes that their performances disclose diverse dimensions of the dystopia of Caribbean life and, in posing ethical questions for viewers, inspire both introspection and civic consciousness. For Browne, this photographic project has involved an effort to fathom the turmoil of his own life as well as the predicament of postcolonial Trinidad.
Browne's first series of photographs examines the Blue Devils of Paramin, an agricultural village perched high on a mountain outside the capital city of Port of Spain and well known for its conservation of vernacular traditions. At Carnival time, members of the community cover themselves in blue dye, and with horns, wings, pitchforks, and fire enact scenes of terror and torment on the streets of the city, in an adaptation of the Jab Molassi (molasses devil) masquerade of the post-emancipation era of the nineteenth century. Browne suggests that these demonic figures are "social martyrs" who "take our shame and despair and make light of the darkness in ourselves that we prefer to deny" (94). The majority of the color and black-and-white photographs in this section are tightly framed on individual masqueraders (from full bodies to faces and hands) and thus highlight personal intention, mood, physical texture, and gesture, more than the spatial and social contexts of Carnival performance. The viewer is directed toward the interiority of human existence where masquerades are composed.
Browne's next series focuses entirely on one masquerade performance: the visual artist Tracey Sankar's portrayal in 2015 of La Diablesse, a figure from Trinidadian folklore who tempts men in the guise of a beautiful (though lonely) woman but is actually a devil with a cloven hoof under her petticoat. With nighttime black-and-white photography, Browne scrutinizes the ghastly countenance of Sankar's white and black painted face, her white horns, dress, and broadbrimmed hat, and the painful experience of attaching and wearing a cloven hoof. For Browne, this masquerade embodies the long history of violence against women in the Caribbean and displays a "fractured femininity" that carries the burden of "toxic manhood" (138). He says that he relied on Sankar's voice to direct his camera lens in an attempt to comprehend something of her suffering. The murder of her husband a few months after this Carnival performance demanded further contemplation of routine violence and anguish in Trinidad.
Browne indicates that, in this book, he is more concerned with masquerades than with Carnival festivity, which seems to offer only an illusion of freedom. Indeed, he shot his final two series of photographs in settings outside the Carnival: one shows a university-based masquerade/political activist group in downtown Port of Spain during Emancipation Day 2015, while the other examines Moko Jumbies, a stilt-walking mas that has antecedents in West Africa, was popular in Trinidad around the turn of the twentieth century, and has been revived in recent years by mas bands such as Touch D Sky. For the 2015 Carnival, Touch D Sky members Stephanie Kanhai and Jonadiah Gonzales wore costumes ("The Sweet Waters of Africa" and "The Fisherman of Souls") designed by Alan Vaughan, a British artist with a long-term involvement in the festival. A few months later, Browne arranged to photograph Kanhai and Gonzales in these costumes at Usine Ste. Madeleine, an abandoned sugar factory that was once one of the largest in the British Empire. The trio arrived in the darkness of early morning and apparently made their way past sleeping watchmen into the cavernous spaces where tremendous wealth had been produced for over a century by laborers of African and East Indian descent. Except for two lead images, all the photographs in this series are black and white. Kanhai and Gonzales stand tall against backdrops of decaying buildings and machinery, with their mysterious gazes directed down at the photographer, off into the distance, or at each other, "each a party to the other's strengths and insecurities" (195). The Moko Jumbie mas has always had an otherworldly quality, given that "jumbies" are a type of spiritual being and performers are elevated several feet in the air. Browne suggests that his images of Kanhai and Gonzales in this factory graveyard inspire reflection on the passage of time and on human ambition and limitation.
Browne's stunning photographs in this collection illuminate multiple facets of the ever-evolving masquerades of the Trinidad Carnival and challenge viewers to look more closely. At the same time, his essays point toward new ways of describing these enactments and interpreting their significance for individuals and society as a whole. Readers with an interest in Caribbean studies, public performances, or experimental writing and photography will find much to contemplate in this well-crafted book.