The Book of One Hundred Riddles of the Fairy Bellaria
By Charles Godfrey Leland. Edited by Jack Zipes. 2018. Minneapolis: University of Minnesota Press. 169 pages. ISBN: 978-1-5179-0608-5 (soft cover).
---
Reviewed by Psyche Ready, University of Connecticut
[Review length: 607 words • Review posted on September 25, 2020]
---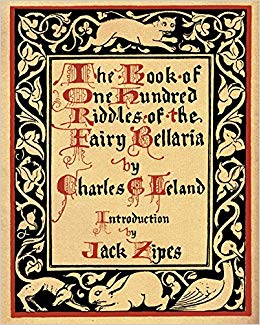 The Book of One Hundred Riddles of the Fairy Bellaria was originally published by Charles Godfrey Leland, humorist, prolific writer, linguist, and folklorist, in 1892 in London. It is a collection of brief riddles and their solutions, organized within a frame story. The riddles appear in musical rhymed verse and are accompanied by illustrations. This is the book's first republishing, edited under the expertise of folklorist Jack Zipes for the University of Minnesota Press. Zipes re-introduces readers to the lyrical folkloric writing of the lesser-known Leland in this new edition and in his informative introduction. It is a delightful read for fans of folklore and fairytales from amateur to academic.
In the frame story, the clever fairy Bellaria marries a king; their kingdom is threatened by an enemy, Ruggero, who is determined to test the queen's cleverness before he attacks, as he does not want to go to war with an enemy wiser than himself. The text is a dialogue between Bellaria and Ruggero: he poses riddles and she responds by singing the solutions in extended rhymed verse accompanied by her harp. Bellaria solves each of Ruggero's riddles immediately and brilliantly, her own wit so far outshining his that Ruggero is ultimately humiliated.
Zipes precedes the text with an introduction and overview of Leland's life, noting his particular fascination with stories and lore of marginalized or othered groups like the Indigenous peoples of the Americas or the Romani people of Europe. His life and career are a fascinating journey of travel, scholarship, and fieldwork, and the introduction will no doubt inspire readers to seek out more of Leland's texts. He published widely and on a variety of topics, including stories and tales he authored himself, like this one, and others presented as tales he collected. While his books sold well and were well-loved in his lifetime, his work as a folklorist was not free from controversy; critics have suggested that some of his "informants" may have been entirely invented, or that he took rather large liberties with the tales he collected in his travels.
One Hundred Riddles was transparently authored by Leland, although, as Zipes notes, it was clearly inspired by folktales, most notably The One Thousand and One Nights, and the heroine Bellaria is reminiscent of Scheherazade. In his introduction, Zipes draws attention to the bold character Bellaria and to Leland's frequent portrayal of powerful, intelligent women, suggesting that Leland was inspired by the suffragette movement in England and America at the time, and that One Hundred Riddles was written as a response to the contemporary need for powerful female figures.
The book is lovely: the verses are set beautifully on the page, accompanied by Leland's black-and-white drawings done in the Arts and Crafts style. The verses are musical, intelligent, and often comical. Zipes notes that he edited Leland's "quaint 'Shakespearian' language a great deal" (19) for clarity, but the text retains that fanciful language we have come to associate with fairy tales. The physical book is small and lightweight in a hardcover cloth binding with beautiful imprints of characters from the riddles. While the book is a worthy addition to the library of any scholar of folklore or fairy tales, it may also be loved by children; of the 100 riddles, there are many that a young child could solve, and this book could quickly become a beloved bedtime tradition!
This is not a dry, academic collection of tales; it's a volume meant to be read, ideally out loud, and savored. We are indebted to Zipes for re-publishing this collection and again drawing attention to Leland, his interesting life, and his many works that deserve remembering.