Inari Sámi Folklore: Stories from Aanaar
By August V. Koskimies, Toivo I. Itkonen. Translated by Tim Frandy. Edited by Tim Frandy. 2019. Madison: University of Wisconsin Press. 344 pages. ISBN: 9780299319007 (soft cover).
---
Reviewed by Pamela Dearinger, University of Washington, Seattle
[Review length: 904 words • Review posted on February 13, 2020]
---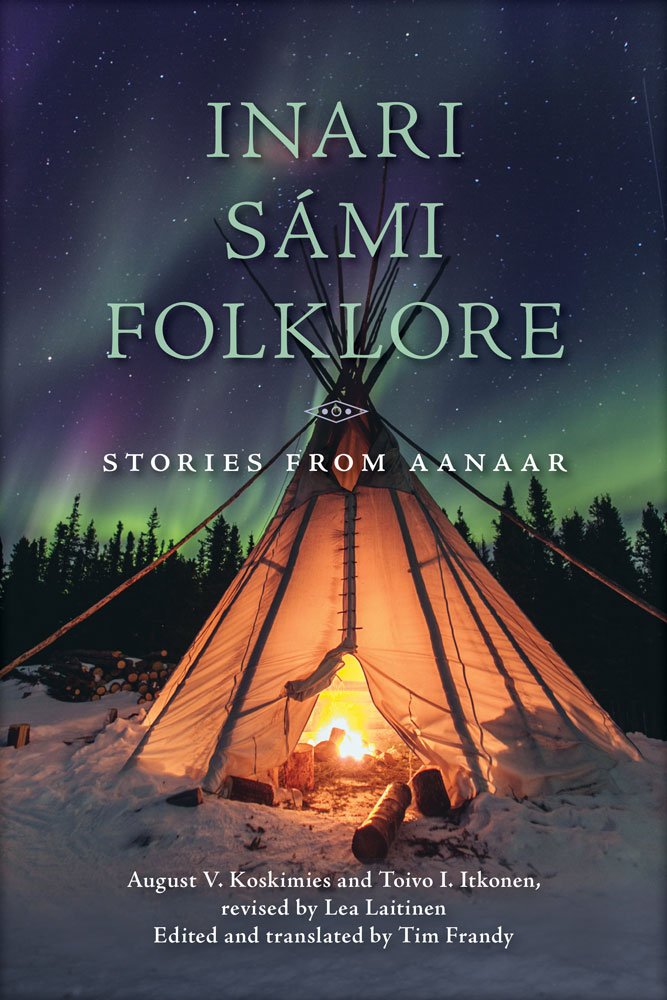 This anthology has an interesting history. It was first published in 1917 in the Inari Sámi and Finnish languages and, in 1978, a second, revised edition was issued. Now Tim Frandy, assistant professor of Folk Studies at Western Kentucky University, and himself a member of the Sámi American community, has translated this collection of stories, legends, songs, and other examples of Sámi oral tradition in an English language edition. While Frandy admits there are numerous inherent difficulties in translating words and concepts so specific to the Sámi culture, publication in English has certainly opened this collection to a much wider audience.
In the spirit of national romanticism, the original compiler of this material, August V. Koskimies, set off in 1886 on a long, arduous journey to study the Inari Sámi language. Lake Inari in Finland has traditionally been home to the Inari, or Aanaar, Sámi, and their economy was supported by such means as fishing, hunting, farming, and reindeer herding. Despite the effects of colonization, they managed to retain their cultural identity, although they did readily adapt to various aspects of Finnish society and adopted the Lutheran religion. It is notable that the material collected by Koskimies came almost exclusively from men who were considered to be Sámi community leaders or had connections to the church. Consequently his sources were somewhat limited and significantly lacking in female input. Fortunately, Koskimies identified his storytellers by name. Frandy has emphasized the importance of giving recognition to these real people from whom Koskimies gathered his material and, accordingly, he felt it was important to add biographies of these Sámi storytellers to this edition. This in itself was an impressive research project, something accomplished through the hard work of "cross-referencing church records, historical documents, scholarship, and a variety of personal genealogies posted online" (xviii). Frandy has also listed the titles and page numbers of their individual contributions.
According to Frandy, this new edition closely follows the revised 1978 edition, but with some significant modifications. For one thing, it reintroduces some materials that were omitted from that work, and these have been included in Appendix A. Appendix B includes the introductions to both of the previous editions, which is helpful for an overall understanding of the history of this collection. Additionally, Frandy has included maps and illustrations, an index of place names, and a glossary of Sámi words found frequently throughout the text. To further facilitate scholarly research, Frandy has also added the Aarne-Thompson-Uther and Christiansen's migratory legends classification numbers to those tales that conform to certain types.
At the head of each chapter, Frandy adds introductory notes summarizing and contextualizing its content, thereby enhancing the reader's understanding and appreciation of the material. For example, he explains that, since the storytellers had strong connections to the Lutheran church, it is at least in part due to the influence of the church that there is an apparent undercurrent of uneasiness or disapproval in some stories concerning the community's pre-Christian past. Stories such as those concerning noaidi/noaiddit (shaman, singular or plural) or sieidi/sieddit (site or sites dedicated to offerings to the spirits) might generate such feelings as they are associated with paganism. In the introduction to the chapter on songs, Frandy explains that joik-singing, now so closely identified with Sámi culture, was frowned upon and even banned by some Christian churches. There are stories told by men about foolish women, and one whole chapter is devoted to stories pointing out the supposed fearfulness and foolishness of the women of the neighboring Skolt Sámi community. Despite their relative geographical proximity, the Skolt Sámi spoke a different language, had a different economic structure, and practiced a different religion (Russian Orthodox), than the Inari Sámi. Frandy points out that stories poking fun at the behavior or perceived unflattering characteristics of outsiders can help to reinforce the values of one's own society by defining the boundaries of what is considered to be normal and acceptable behavior. Furthermore, he notes that these stories show the fallacy of "the romanticized mythos of a perfectly harmonious Indigenous world" (154). Although a number of entries in the collection are repetitive, there is a variety of different types of material, including proverbs and riddles, humorous tales, fairy tales, and legends. Examples include legends about the gufihtarat, said to be small, magical beings that live underground; legends of troll-like creatures known as stállut; and stories about the cudit, a term used for vicious invaders whose ruthless and murderous behavior may well have been rooted in actual historical incidents. Frandy's explanatory notes prove valuable throughout.
In his introduction, Frandy states: "I have tried to produce a work that would be equally suitable for scholars, undergraduate students, and a general audience" (xxxv). Overall, he succeeds in achieving this goal. In addition to translating the material assembled in the earlier editions, he presents some historical background on the Inari Sámi, provides an explanation of some of the differences between different Sámi groups, and makes observations on the effects of colonization. This edition provides insight into the lives of the storytellers and their community and, according to Frandy, "illustrate[s] that Aanaar Sámi were far from the stereotype of an isolated Indigenous people, but rather part of the broader systems of European cultural, capital, and intellectual exchange that has been occurring for millenia" (xxxiii). As studies of the Sámi people continue to expand, this English language anthology should be a valuable tool in several areas of study.