Japanese Tales of Lafcadio Hearn
Edited by Andrei Codrescu. 2019. Princeton: Princeton University Press. 224 pages. ISBN: 9780691167756 (hard cover).
---
Reviewed by Simon Bronner, University of Wisconsin, Milwaukee
[Review length: 1145 words • Review posted on February 20, 2020]
---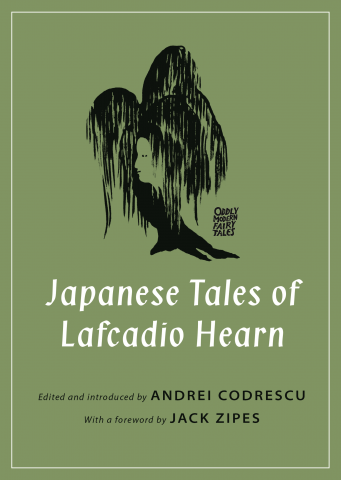 Lafcadio Hearn (1850-1904) commands several titles in the history of letters. W.K. McNeil (1978) identified him clearly as a folklorist while I pointed out his claim as an ethnographer (Bronner 2002). Others have referred to him as a literary journalist, literary critic, essayist, novelist, as well as an ethnographer. He is best remembered today for observations after 1890 of Japanese culture and character in a transitional time between the exclusion of foreign influence in pre-Meiji traditional culture and the opening up to the West with the emperor's declared goal of modernization after the 1870s. Many readers have assumed that his attraction to folklore derived from being exposed to Japanese narrative traditions and his connection to his wife Koizumi Setsu. Indeed, many Japanese schoolchildren read his renditions of Japanese folklore to this day under the name of Koizumi Yakumo. The Japanese government designated his former home in Matsue, in the Shimane Prefecture of Japan, a historic site in 1940, and a Japanese movie based on his book Kwaidan kept his legacy before a mass audience. Yet Hearn's fascination with folklore, particularly supernatural beliefs and ghost legends, was evident well before, and appears heavily influenced by stories of goblins in his Irish childhood and the Creole culture of New Orleans in which he actively "collected" and interpreted. That is not to say that folklorists have embraced his contributions, probably because of his defiance of literary, folkloristic, and social conventions. He was the classic outsider: born in the Ionian Islands in present-day Greece, relocated to Ireland, educated in France, and then shipped off to the United States, before embarking for Japan.
A spate of interest in Hearn is apparent from the publication of these books, although one might ask how much of the interpretation or re-thinking of Hearn is due to contemporary awareness of folklore, and how much to Hearn's association with the literary genre of horror narrative. The primary label for readers is of the "writer" and a rather strange one at that. Kwaidan, with the compelling subtitle of "Stories and Studies of Strange Things," on this list of books is a reprint of a large part of the original book published in 1904, although the editors chose to omit the chapter on "Horai," about a mythical place, and the last section on insects. Hearn's original introduction in which he gives his sources (mostly "old Japanese books," one verbatim narrative taken from a teller, and one "personal experience") is also absent. Kwaidan, Hearn explains, is Japanese for "weird tales," and biographer Paul Murray replaces Hearn's introduction with a brief retrospective that underscores the expression of "novel and imaginative forms of horror" in Kwaidan. The distinction of this reprint, and there are many available already, is the black-and-white, full-page photographs by Hiroshi Watanabe, but they are not captioned and one can only guess how they create "a new way of visualizing Hearn," as Murray claims. The book is artfully packaged but does not add to the inquiry into Hearn's imagination or the Japanese context for his stories more than a hundred years after his death.
Murray gives a longer introduction in Japanese Ghost Stories, for which he is given editorial credit. Part of the Penguin Classics series, the book includes eight stories from Kwaidan and adds a number from In Ghostly Japan (1899), Shadowings (1900), Kotto (1902), and A Japanese Miscellany (1901), among others. Murray introduces the stories with reference to Hearn's career as a writer rather than to the Japanese cultural context. He acknowledges, however, that Hearn's stories differ from Victorian horror stories because Hearn's are "based entirely on folk originals translated into English from another language and culture" (xxiii). Murray offers that Hearn's literary output was dominated by ghost stories because of his rejection of Western materialism, which he believed "had squeezed the spiritual out of people's lives" (xxv). This claim presents Hearn's body of work in Japan, providing less insight into Japanese culture and more about Hearn's life story.
Andrei Codrescu, renowned as a poet and literary critic, also dwells on Hearn's life story in the introduction to Japanese Tales of Lafcadio Hearn, and characterizes it as a "fairy tale" because he "changed, as if magically, from one person into another, from a Greek islander into a British student, from a penniless London street ragamuffin into a respected American newspaper writer, from a journalist into a novelist, and most astonishingly, from a stateless Western man into a loyal Japanese citizen" (2). Where is the folklorist character? More than Murray, Codrescu considers the impact of oral recitation of folk epics on Hearn for providing "the threads that Hearn seized on when he wrote Kwaidan, his first truly Japanese book written in his best English" (17). Codrescu continues to contemplate "the enchantment of the Japanese imaginary" in legends, rituals, and beliefs of Shinto and Buddhist practice that Hearn conveyed. As the title of Japanese Tales indicates, the volume is not solely dedicated to ghost stories but is dominated by what Codrescu notes as the "weird." Jack Zipes, well known to folklorists, cautions in his foreword that, while basing his work on "Japanese legends, myths and fairy tales, Hearn took great poetic license and honed them into weird narratives. They cannot be considered authentic Japanese tales: they are estranged from Japanese tradition in the way that Bertolt Brecht used the estrangement effect in the theater" (xi). Codrescu includes the stories from Kwaidan (including Horai omitted from Murray's volume) and a representative sample from Shadowings and A Japanese Miscellany.
Codrescu provides a service in separating those stories from Hearn's imagination and those that were "transcribed" from oral tradition, and he further distinguishes them from nineteenth-century anthologies of fairy tales produced in Europe. In a statement that could be the basis of a dissertation, Codrescu reflects that Hearn "invented elements that were closer to the smoky djinns of the Thousand and One Nights, or the monsters of Greek myths, but he rarely employed the repetitions familiar to European readers; instead, he translated brief jingles or occasional poems that were traditional in Japanese stories" (24; see Codrescu's adaptation of the Thousand and One Nights in Whatever Gets You Through the Night). Codrescu's suggestions will probably pique folkloristic readers more than Murray's as they revisit these narratives, and contemplate the Eastern and Western worlds, and traditions, that Hearn experienced—and interpreted. As admirable as Codrescu's contribution to the Hearn bookshelf is, I still long for folklorists' insights into Hearn's material and its contexts—and his identity as a folklorist—rather than filtering them through the lenses of literati.
Works Cited
Bronner, Simon J. Lafcadio Hearn's America: Ethnographic Sketches and Editorials. Lexington: University Press of Kentucky, 2002.
Codrescu, Andrei. Whatever Gets You Through the Night: A Story of Sheherezade and the Arabian Entertainments. Princeton, NJ: Princeton University Press, 2011.
McNeil, W.K. "Lafcadio Hearn, American Folklorist," Journal of American Folklore 91 (1978):947-67.