Native Provenance: The Betrayal of Cultural Creativity
By Gerald Vizenor. 2019. Lincoln: University of Nebraska Press. 208 pages. ISBN: 978-1-4962-1671-7 (soft cover).
---
Reviewed by Timothy D. Smith, Penn State University, Harrisburg
[Review length: 964 words • Review posted on October 14, 2021]
---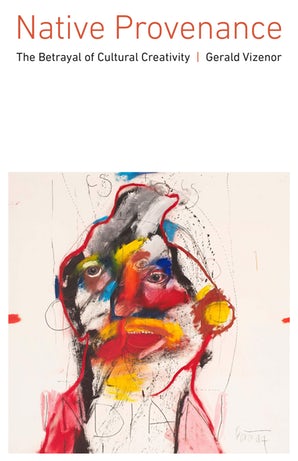 In Native Provenance: The Betrayal of Cultural Creativity, Gerald Vizenor examines the presence of artistic indigeneity to unearth the veins of Native creativity permeating every stratum of American culture. Though concise, the book ranges from ancient, hand-painted cave art illuminated by flames to post-modern avant-garde creations displayed on gleaming pedestals. This range allows Vizenor to demonstrate Native American survivance, a concept he describes in earlier work as "an active sense of presence over historical absence" (38). The author subverts simulations of Native Americans through the living artistic traditions he inherits, influences, and explores. He argues inferior Euro-American translations of Native American stories overlooked the dynamic "tease and weave of ironic gestures" (1). These omissions, he explains, distorted perceptions of Native Americans in ways persistent in U.S. culture and law.
Vizenor endows his argument with irony. He mirrors mainstream assumptions about Native Americans to quickly upend them, exposing commercial negations of Native American culture. He emphasizes the "potentiality of native irony" (2) in the Indigenous voices expressed latently in Euro-American accounts of cross-cultural interactions. Markers of Native American traditions, he explains, are "embedded in the notes of discovery, in the documents and narratives of dominion, historical archives, [and] ethnographic monographs" (2). This rationalization of outsider perspectives as "gossip theories" created an "unintended irony" (18). The collision of these simulated fictions and the lived reality of their Native subjects results in an "ironic disruption of meaning" (11). Native Provenance embodies this concept through a collage of Euro-American portrayals of Indigeneity infringing on the Indigenous cultural creativities which betray their absurdity.
Vizenor's exploration of Native ironic humor contributes to scholarship designed to privilege Native subjectivity. He points out the "tragic irony" (12) of John Ford's popular film Cheyenne Autumn (1964), which, unbeknownst to white members of the audience, featured Cheyenne speaking Navajo, "a great source of native humor" (12). Michelle H. Raheja (2007), in "Reading Nanook's Smile," articulates a framework of "visual sovereignty" wherein Native Americans "laugh at the camera" (1160) in response to distorted imagery of the cinematic Indigen. These popular caricatures of Native folklife suggest the folkloresque, a concept Michael Dylan Foster (2016) describes as "popular culture's own (emic) perception and performance of folklore" (5). The folkloresque promotes analysis of the kind of cross-transmission and co-variation of folklore and popular culture at the center of Vizenor's circuitous argument.
Non-linear, and moving freely among voices, cultures, and time, Vizenor engages the reader dialogically, a stylistic feature of his work critics identify as a narrative simulation of oral storytelling. He presents traditional word puzzles, totemic images, and Naanabozho-style tricks; in doing so, he positions the reader as problem-solver, muse, or—so be it—fool. With no pretext, he slips into a trickster narrative about pre-Columbian monks in North America who fall victim to a Native trickster. Through willing coercion, Vizenor immerses the reader in "trickster hermeneutics" (149). By reshaping the discourse around this dynamism of Indigenous artistry, he resists static, "terminal notions" (150) of "Indianness." To ground his claims, Vizenor applies close reading to ethnographic, historical, literary, news media, and folk texts; he pairs this effectively with reflections on his own experience, heritage, and positionality. As a result, this interdisciplinary text offers broad pedagogical appeal in upper-level undergraduate or graduate level courses where students have some familiarity with critical theory.
Building on his previous work, Vizenor extends key theories of indigeneity. Readers familiar with his catalogue and the accompanying vocabulary will find familiar ground in transmotion, natural reason, and trickster hermeneutics. In Native Provenancehe adds chapters on cultural survivance, gossip theory, Native irony, and natural motion. Readers unfamiliar with his work face the difficult task of navigating dense clusters of critical terminology, and, as critics note, Vizenor is not the most forthcoming guide, preferring Native artistry to formal clarity. His contravention of Western rhetorical assumptions strategically decenters hegemonic knowledge by sanctioning the meaning-making of Native aesthetics. Despite his often-challenging prose, Vizenor's vivid storytelling, ironic reflections, and trickster twists engage the uninitiated reader in the unspooling tension of his argument, drawn in by the lurking shadow of "narrative chance" (151). Vizenor embodies the persistence of Native authorship as he shares the historical influence of Native stylistics on American literature.
Through this index of Native literature, Vizenor traces a literary style infused with traditional Native American aesthetics, a unique style worthy of a place in literary history. He describes four "narrative categories" of Native American authorship that allow Native texts to be "clearly reviewed, discussed, and compared" (119). Abbreviated, these categories are 1) translations of native folklore, 2) historical texts of resistance, 3) Native American literature, and 4) Native American "commercial fiction" (119). The author admits the reduction inherent in this model, a taxonomic inevitability. Instead of offering it as a definitive model, Vizenor indicates its purpose as a rally point for future scholarship. He encourages a fresh angle of vision on "academic dissertations and conference papers on native cultures and stories" (20), one that revolves around Native presence, not simulation and gossip theory. In this book, Vizenor confronts the reader with the evidence of autonomous Native provenance as a direct challenge to the unwritten doctrine of emic assumptions about the cultural creativity of indigeneity.
Works Cited
Foster, Michael Dylan. 2016. "Introduction: The Challenge of the Folkloresque." In The Folkloresque: Reframing Folklore in a Popular Culture World, edited by Michael Dylan Foster and Jeffrey A. Tolbert, 3–33. Logan, Utah: Utah State University Press.
Raheja, Michelle. 2007. "Reading Nanook's Smile: Visual Sovereignty, Indigenous Revisions of Ethnography, and Atanarjuat (The Fast Runner)," American Quarterly 59: 1159-1185.
Squint, Kirstin L. 2012. "Gerald Vizenor's Trickster Hermeneutics," Studies in American Humor, New Series 3: 107-123.
Vizenor, Gerald. 2009. Native Liberty: Natural Reason and Cultural Survivance. Lincoln: University of Nebraska Press.
---. 2019. Native Provenance: The Betrayal of Cultural Creativity. Lincoln: University of Nebraska Press.