You Don't Know Jack: A Storyteller Goes to School
By Kevin D. Cordi. 2019. Jackson: University Press of Mississippi. 234 pages. ISBN: 9781496821249 (hard cover).
---
Reviewed by Timothy Evans, Western Kentucky University
[Review length: 984 words • Review posted on September 30, 2021]
---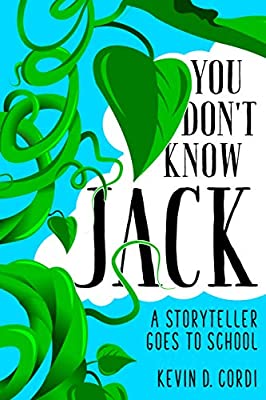 Kevin Cordi's book is part memoir (Cordi calls it an autoethnography), part critical reflection on the theory and practice of storytelling (especially as pedagogy), and partly a kind of guide to using storytelling in educational contexts, in or out of the classroom. Cordi, a distinguished professional storyteller and longtime teacher, reflects on his multiple identities: his Appalachian roots (and his parents' storytelling), his training and experience as a K-12 teacher, his entry into the culture of professional storytellers, his pursuit of a doctorate in education at Ohio State (he is now assistant professor of Education at Ohio Northern University), and the "new middle" he has found as an educator who specializes in "storymaking." Cordi starts and ends his book with the Appalachian folk hero Jack: not so much the literal hero of well-known folktales like "Jack and the Beanstalk," but Jack as a metaphor for the power of storytelling and for finding a voice (or voices) as a storyteller.
Growing up in Akron, Ohio, in a family that came from West Virginia, Cordi describes hearing tales from his mother about ordinary people (not necessarily named Jack) dealing with adversity in "real life" situations. The stories were meant to teach values. Trained as a teacher but developing an interest in professional storytelling, Cordi describes his struggle to reconcile these cultures. Cordi gradually developed his own pedagogies, including not only storytelling in the sense that professional storytellers use the word (the storyteller in control of the narrative, with an external audience), but storymaking in the sense that a class or other group collectively tells a story, within parameters set by a teacher or leader. Cordi also taught drama and brought techniques from drama into his classroom storymaking.
The pedagogy Cordi developed was collaborative, allowing for many voices and perspectives, and was improvised by the students, within frameworks established by the teacher. This transgressed the cultures of both professional storytelling, with its emphasis on a single teller who is in control, and K-12 teaching, with its emphasis on closely followed lesson plans. In exploring his model of storytelling, Cordi draws extensively on five points from Elinor Ochs's and Lisa Capps's book Living Narrative—tellership (who is in control of the narrative), tellability (the extent to which a narrative invites others to participate), embeddedness (how attached or detached the narrative is from the surrounding discourse), linearity (a closed temporal order versus an open temporal order that invites shared narratives), and moral stance (ways in which narratives are morally resolved or unresolved).
The core of the book is chapters 5 and 6 (which together make up half the book). Chapter 5, "Using Storytelling and Storymaking in my Classes," describes the development of the author's classroom pedagogy, which evolves from storytelling to storymaking—that is, developing stories collectively for an internal audience. He gives a number of examples, including "academic" topics such as the Canterbury Tales, and stories of students who had been classified as "disadvantaged" or "troubled," about topics such as gang membership, homelessness, and teenage pregnancy. Cordi started a Storytelling Club which, he found, was often more effective than the classroom because of its less structured nature.
Chapter 6, "Story in Connection with Drama," describes how Cordi's classes carried storymaking into "process drama"—episodic, improvised drama in which the class uses role playing to critically explore a topic or theme. He gives examples of specific themes that his classes have explored this way: the Oregon Trail, Indian boarding schools, the sinking of the Titanic. The use of drama in ways that are improvised and performed only for an internal audience transgressed the norms of teaching drama in its usual sense. Students in the class come up with their own solutions to problems and issues inherent in their topics after they are given the roles they are playing. Cordi gives examples of classroom rules for choosing roles and episodes to explore.
When Cordi is being more abstract and academic, he can sometimes be overly wordy and repetitive. However, he has an abundance of good ideas for using storytelling and storymaking as pedagogical tools. The greatest strengths of his book are his many examples. Although an educator may not teach about the Titanic or teenage homelessness, Cordi's description of the storymaking process and its adaptation to different teaching environments is useful for almost any teacher, kindergarten to college, teaching almost any subject.
What is missing here, however, is some mention of how Cordi applied these methods to specific curricula. Public school teachers in the contemporary U.S. must use detailed lesson plans that strictly follow curriculum standards, and they must make the case that classroom activities have a positive impact on standardized test scores. Cordi has presumably addressed these issues as a teacher, but he does not elaborate on this in the book. For the book to be useful to teachers, practical suggestions for addressing this would be helpful.
Cordi's book is successfully interdisciplinary, while challenging the assumptions of many of the disciplines he draws on. Although he is not a folklorist, he does draw on folklore theory: for example, Richard Bauman on performance, Elliott Oring on identity, and Amy Shuman (whose "sage advice" he acknowledges) on storytelling rights and empathy. For folklorists, the book is recommended to those working in folklore and K-12 education, or with professional storytellers. In some ways, Cordi comes across as a professional storyteller who has discovered insights that folklorists tend to take for granted—that performance is embedded in everyday interactions and that oral narratives often are told collectively and reflect the complexities of group dynamics. Cordi's advocacy for encouraging students to tell their own stories in the classroom is in keeping with much recent work by folklorists. However, his work with drama goes well beyond this as a method for the acting out of stories by students. More broadly, Cordi's book is an excellent example of the practical application of narrative theory to progressive education.