Querencia Reflections: on the New Mexico Homeland
Edited by Vanessa Fonseca-Chávez, Levi Romero, and Spencer R. Herrera. 2020. Albuquerque: University of New Mexico Press. 376 pages. ISBN: 978-0-8263-6160-8 (soft cover).
---
Reviewed by Brenda Romero, University of Colorado
[Review length: 1960 words • Review posted on September 28, 2021]
---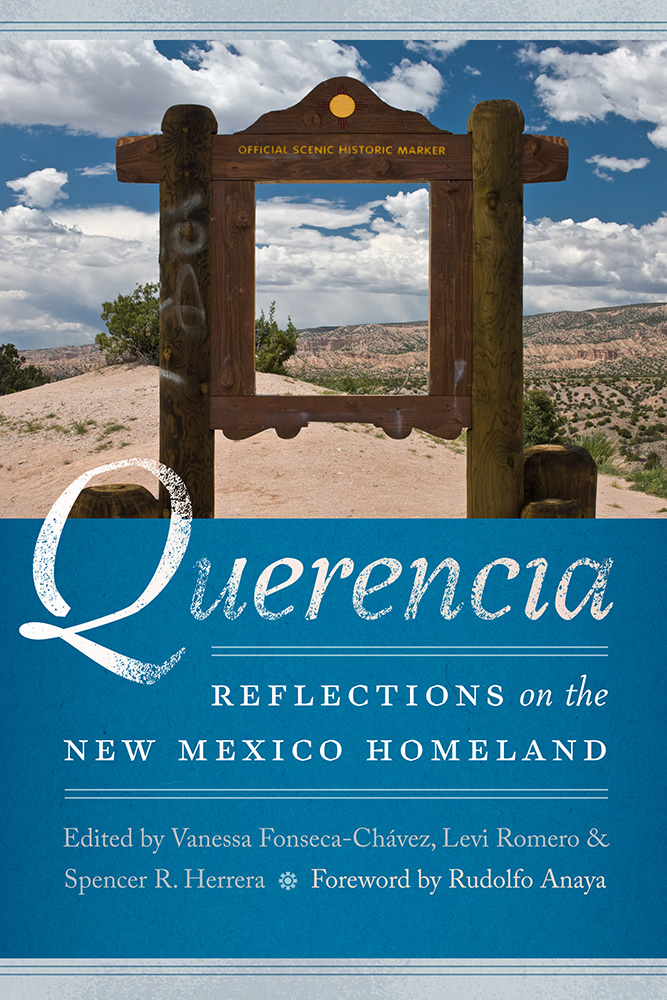 Dedicated to the organic New Mexican intellectual "Juan Estevan Arellano, whose reflections and love of la querencia gave birth to a continued search and affirmation for our own sense of home and belonging" (vii), this long-awaited anthology reflects on ideals of homeland in New Mexico from various perspectives. The term querencia is literally "homing instinct, a favorite place" (Larousse Gran Diccionario Español InglésEnglish Spanish, 1994). Arrellano recontextualizes the term within cultural mixing and hybridity:
"Though once we, la raza cósmica (The Cosmic Race), might have been an alien presence in this land—because of our Spanish fathers—we have now become as natural in this landscape as the piñon tree. Whether we (or Native Americans) acknowledge it or not, most of us have Native American blood running through our veins. That communion with the landscape ties us to the enduring code of brotherhood just as the poet makes the landscape itself the carrier of memory" (1997:32).
Arrellano ties the concept of querencia to bioregionalism based on American writer Kirkpatrick Sale:
"Sale reminds us that "bioregionalism calls for human society to be more closely related to nature, and to be more conscious of its locale, or region, or life-place. . . .It is a proposal to ground human cultures within natural systems, to get to know one's place intimately in order to fit human communities to the Earth, not distort the Earth to our demands" (Arrellano 1997:32, citing Kirkpatrick Sale, 1985:44).
The essays in Querencia, Reflections on the New Mexico Homeland open a critical dialogue among scholars invested in New Mexican identities in third spaces, in particular between Pueblos and Hispanos but also in relation to the Spanish-speaking descendants of a general population of Native slaves and captives, today often referred to as Genízaros (from janissary). Four authors in the book under review here are Native: Kevin Brown (Navajo Nation), C. Maurus Chino (Acoma), Corrine Kaa Pedi Povi Sanchez (San Ildefonso Pueblo), and Myla Vicenti Carpio (Jicarillo Apache Nation, and Laguna and Isleta Pueblos). After a foreword by the late New Mexican literary figure Rudolfo Anaya, these interdisciplinary scholars address the concept of querencia in a general conversation about the ongoing struggles for identity and connection among Native Americans as well as among the descendants of Spanish settler colonists and land-grant communities in New Mexico.
Scholars use various self-identifying terms for segments of this New Mexico demographic, including Genízaro, La Raza, Manitos, Hispanos, Indo-Hispanos, Chicanx, and Latinx, although detailed definitions are beyond the scope of these essays. But it may be useful to readers to know more about two of these terms. Moises Gonzales, in the present volume, identifies as Genízaro, explaining: "The importance of Genízaro epistemology in the conceptualization and theorization of querencia is that it occupies another space outside of the Pueblo Indian and Hispano imaginary and places it directly in relation with equestrian and plains nations such as the Ute, Diné, Apache, Comanche, and Kiowa" (253). We can catch a glimpse of what this may have meant for Genízaros: "Some Governors were among the worst exploiters, setting up virtual sweatshops for Pueblo and captive nomadic Indian labor in Santa Fe" (Swadesh 1976:23). In the 1990s Tomás Atencio espoused "Genízaro consciousness," moving away from the generic "mestizo" label to a greater acceptance of a complex local history and mixed genealogies. [1]
Patricia Marina Trujillo identifies as Manita. Elsewhere, I have discussed the general term as an abbreviation of hermanito (little brother) – thus 'Manito, in reference to the Hermanos penitents in Hispano communities (see Romero, 2012). Here I omit the apostrophe and use Manito to be consistent with its use in this anthology. Gonzales's essay in this volume further explicates reasons the Hermanos have been and continue to be, in many Hispano locations, foundational for local resiliency. Although most Native Americans reject the Hermanos' penitential practices, the Pueblos encourage their members to dance barefoot in the scorching sun for corn dances in early August.
Having set the scene, I turn to discussion of this book's content. Querencia, Reflections on the New Mexico Homeland is organized into five parts, each of which includes three chapters, as follows:
I. Community Querencias, with essays by Simón Ventura Trujillo, Lillian Gorman, and a collaborative essay by Kevin Brown, Vanessa Fonseca-Chávez, Tey Marianna Nunn, Irene Vásquez, and Myla Vicenti Carpio;
II. Screening Querencias: essays by Vanessa Fonseca-Chávez, Karen R. Roybal, and Spencer R. Herrera.
III. Memory as Querencia: essays by Bernadine Hernández, Myrriah Gómez, and Norma A. Valenzuela).
IV. Cultural Landscapes of Querencia: essays by C. Maurus Chino, Jonathan Wilson, and Moises Gonzales.
V. Storytelling as Querencia: essays by Kelly Medina-López; a collaborative essay by Patricia Marina Trujillo, Corrine Kaa Pedi Povi Sanchez, and Scott Davis; and the concluding chapter by Levi Romero (New Mexico's Poet Laureate).
C. Maurus Chino -- his "merikana(Acomanized American) name" stands out in challenging positionalities that do not begin with an acknowledgement of the occupied status of Native lands and territories (215) – offers a critique of a conference panel on Genízaros. He states:
"They spoke forcefully of their 'Indigenous' identity and their pride in inheriting Spanish land grants. They were oblivious of the fact that these lands are, in fact, Indian lands stolen from the People. They continued to speak of their Indigeneity until I spoke up and reminded them what it means to be Indigenous. There are four requirements: a traditional or original land base, an Indigenous language, a tribal self-government, and an official tribal recognition from other Indigenous People as Indigenous" (216).
In his first endnote, Chino uses "'Hispano' to refer to New Mexicans of Spanish/Hispanic heritage who support colonial projects and who have worked against Indigenous People" (218, note 1), though I would observe that fewer and fewer contemporary Manitos think espouse such ideas these days.
Chino continues:
"Southwest history obsesses over the so-called Spaniards here in New Mexico. We all know they came from Mexico, not Spain, and that many were probably part Indian even then. Historians obsess over events long past, in search of imagined glory that was never theirs in the first
place. . . .In Santa Fe, even dark-skinned Hispanos are Caucasian. They clench desperately the idea of Spain and, when convenient, profess their love of 'sense of place' over this holy Land when, instead, it is the love of possession of history and possession of place, concepts not akin to Indigenous worldviews" (217).
Chino fails to mention the power imbalances and ongoing patterns of domination brought with Anglo coloniality, nor does he go on to say that, to their credit, the Spaniards exiled the colonizer Juan de Oñate back to Spain, where he died in disgrace for his murderous brutalities at Acoma and elsewhere. Juan de Oñate's memorial statue in Alcalde, New Mexico (the first municipality with a magistrate in what is now the United States), is a subject touched upon in a number of the anthology's chapters. The book, as it happens, was published before the statue was taken down in 2020 amid protests.
Moises Gonzales, on the other hand, engages a structuralist approach based on the work of the late Tewa anthropologist Alfonso Ortiz to present Gonzales's "Data visualization mapping system of complexity in the Querencia Cultural Landscape Model, 2017" (249), and "cultural calendar " (259) – both useful tools in considering where meaning resides in contemporary readings of tradition. Like Alfonso Ortiz, Gonzales creates an idyllic picture of resilience – in this case within traditional Manito village societies. Gonzales nonetheless fails to address Chino's experience of what it means to know White Spaniards enacted violence against Native ancestors to get the land. Gonzales believes his model "can be a reflective community participatory research tool that engages with land- based communities in evaluating their natural and cultural systems and developing strategies to strengthen resiliency" (265). Although Gonzales's work has many potential applications for local communities and for social scientists, he sees a return to or maintenance of tradition as "resiliency," and does not account for natural and organic change over time, and especially as "younger land-grant families are less involved in the formal aspects of the Catholic Church" (265.). It is important to note what appears to be a mistaken use of the term "Matachín Society" for local Matachines cuadrillas, music and dance groups (263). I address this distinction in a forthcoming publication (Romero, forthcoming).
There is no way out but through, a concept laid out more elegantly in my favorite of the chapters, ""The Revolution Begins at La Cocina!" Three scholars who literally represent the "tri-cultural" narrative discussed at length in the chapters, a Chicanx female, a Tewa Pueblo female, and a White male, collaborate on a deceptively light-hearted essay that mirrors what many of us in New Mexico experienced in our middle school and high school days, as I did growing up in Gallup, New Mexico, starting in middle school.
"Much of the way we ended up on the same path finds connections in our shared love for critical theory, critical race practice, and social justice in general, but in northern New Mexico, in particular. We have all put in hours on the "front line" of anti-oppression, Indigenous-centered work through our various positions and projects. But mostly, we are friends. . . .We bask in the sacred and keep each other from drowning in the mundane, because that's what this word querencia means, ¿Que no?: the place where we feel most at home, most comfortable. That is what our shared friendship is, despite the fact that we have different perspectives. We have found a home between and among ourselves, our backgrounds, and our experiences" (287).
So many of us "lived" in the same classrooms and studied with the same teachers; we talked to each other like these three (brilliant) scholars helping the rest of us make sense of things around us. I applaud them for the creativity in their approach, which emphasizes and exemplifies a true aspect of contemporary life in the Americas: gaining wisdom by sharing conversations over food! In addition, they add tremendous support to the idea of "relationship" as an alternative to the competition that is rampant in academia:
"We were inspired to write this as a conversation, rather than an essay, for many reasons. We are using story-sharing—which is active and ongoing—recognizing that we each hold pieces of the story. This signals how our communities privilege oral communication and interpersonal interactions: that is to say, relationships. This dialoguing on the page embodies a resistance to individual authorship and its relationship to authority" (288).
This is an excellent anthology with many more riches than the few I chose for this brief review. It is perfect for Chicanx and Latinx studies, American studies, folklore, Latin American studies, anthropology, ethnic studies, language and linguistic Studies, and related disciplines and interdisciplines.
[1] David F. García, personal communications with author, September 13, 2021.
Works Cited
Arrellano, Juan Estevan. 1997. "La Querencia: La Raza Bioregionalism." New Mexico Historical Review 72: 31-37. Accessed September 13, 2021. https//:digitalrepository.unm.edu/nmhr/vol72/iss1/6.
Romero, Brenda M. (forthcoming). Matachines Transfronterizos, Warriors for Peace at the Borderlands. (An ethnomusicological and folkloric study of the dynamics of creativity for cultural survival with regard to performance as indexed by the ceremonial genre called Matachines in the Southwest United States, Mexico, and the Colombian-Peruvian Andes.) Folklore Studies in a Multi-Cultural World Series. Champagne-Urbana: University of Illinois Press.
------. 2011. "New Mexico and 'Manitos at the Borderlands of Popular Music in Greater Mexico." In: Transnational Encounters. Music and Performance at the U.S.-Mexico Border, edited by Alejandro Madrid. New York: Oxford University Press, 287-311.
Sale, Kirkpatrick. 1985. Dwellers in the Land: The Bioregional Vision (San Francisco, California: Sierra Club Books.
Swadesh, Frances Leon; et al. 1976. The Lands of New Mexico. Santa Fe: Museum of New Mexico; New Mexico State Department of Education.