Unsettling Native Art Histories on the Northwest Coast
Edited by Kathryn Bunn-Marcuse and Aldona Jonaitis. 2020. Seattle: University of Washington Press. 344 pages. ISBN: 9780295747132 (hard cover).
---
Reviewed by Laura Allen, Montclair Art Museum
[Review length: 924 words • Review posted on October 8, 2021]
---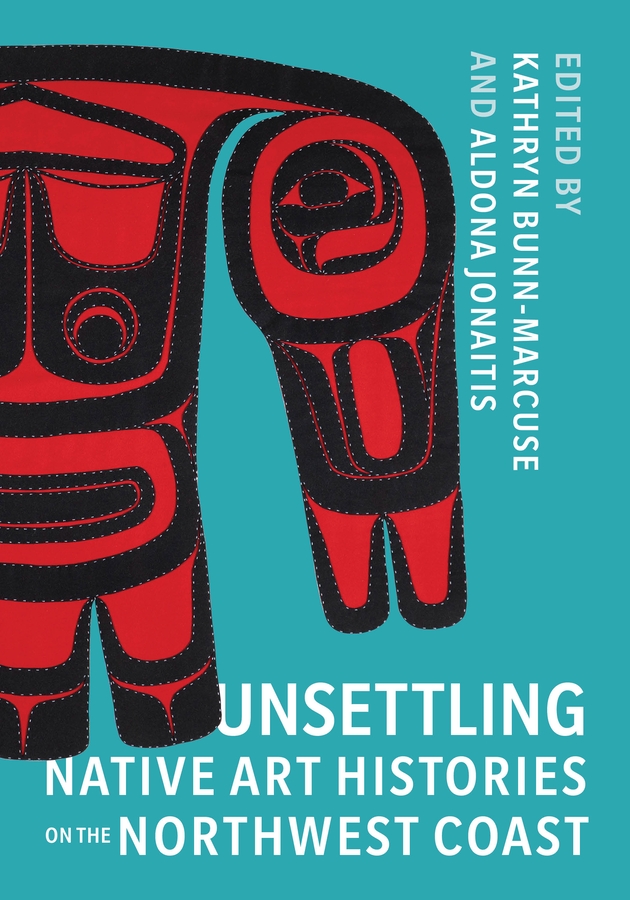 As its title conveys, this engaging volume aims to "unsettle" prior approaches to art-historical scholarship and museum practice for the Indigenous arts of the Pacific Northwest—to recognize their colonial underpinnings and decenter them from settler perspectives. In arguing for this tack, co-editor Kathryn Bunn-Marcuse draws from the work of political scientist Jeff Corntassel (Cherokee Nation) in her introduction, noting that "if you want to 'unsettle' and you are a settler, you have to change the relationship and take direction from Indigenous nations themselves" (4). Starting with Indigenous priorities, she argues, can result in enhanced understanding, promotion of community values, and correction of long-standing biases, among other outcomes. An "unsettling" approach can apply broadly to any field where the legacies of colonialism have shaped its production of knowledge.
The numerous Native and non-Native authors in this book, which germinated from sessions at the 2017 Native American Art Studies Association conference, achieve their goal by foregrounding Indigenous knowledge, authority, rights, and living cultural practice in their essays. For many authors, folkloric approaches—oral histories, perspectives outside the academy—help to surface and integrate the social phenomena that involve and even require art production on the Northwest Coast. Overall, the authors propose a new ethic of knowledge production for Native art history that works to resist the erasures of salvage anthropology, formalism, structuralism, and other paradigms of the nineteenth and twentieth centuries whose legacies are still at play, as co-editor Aldona Jonaitis's historiographic conclusion succinctly and personally details.
The book's fourteen chapters are organized into four parts: I, Cultural Heritage Protection; II, Women's Work; III, Changing Museums; and IV, Beyond Art. Notable is the editors' choice to begin each part with a short poem or reflection by a regional Native artist or writer, demonstrating the commitment to first-person voices articulating Indigenous relationships to art. For example, Duane Niatum (Jamestown S'Klallam) opens Part I by relating his own compelling encounter with a red cedar branch where he saw a bear emerge, then transform into a mask (22). Within the chapters, many contributors likewise speak intimately, drawing upon family histories or lived experiences. Furthermore, the photographs in this beautifully designed book, many of which were created by the writers themselves, also visually project intimacy and kinship. They are not limited to the standard fare of art-historical texts—aesthetic images of pieces removed from their originating cultural contexts—but also feature people and ceremony. Such choices reflect ongoing relationships among Native people and between Native and non-Native people increasingly engaged in community, scholarly, and museological work together.
These types of collaboration, of course, can be difficult. Many authors in this volume embrace the uneasy moments and questions, those that are "unsettling" in a different sense of the word. Examples include repatriation negotiations (Lucy Fowler Williams, chapter 11), uncertain partnerships (Sharon Fortney [Klahoose], chapter 8), and the "complicated and messy stories" involved in the reproduction of Native art by artists of Anglo or unclear heritage (Janet Catherine Berlo and Aldona Jonaitis, chapter 4, page 85).
Other chapters work to redress past imbalances in art-historical scholarship and museological practice. For example, underrepresented topics are afforded space here, such as property rights, contemporary performance art, female woodcarvers, women's experiences more broadly, the emergence of new lineage crests, and perspectives from border communities. The four chapters of Changing Museums share how organizations are resetting their missions to remedy harms, renegotiate power relations, and reconnect artworks with artists and other community members in ways that are productive and creative. (However, for the exhibitions mentioned, more attention to walk-in visitor outcomes—whether Native or non-Native—would have been welcome. How is this work changing museum visitors?)
As the book arcs toward Jonaitis's conclusion, the most invigorating chapter, in my view, is the last, by poet, storyteller, actor, and playwright Ishmael Hope (Inupiaq/Tlingit). Placed in the section Beyond Art, Hope's essay works to reconsider the term "art" by describing the power of Tlingit artworks in social practice. To do this, he weaves joyful narrations of their action at ku.éex'(potlatches) with his perspectives on the writings of the early-twentieth-century Tlingit anthropologist Louis Shotridge, combining historiography, linguistics, and poetics with personal response. Hope concludes with his own invitation for readers to regard this art in its fullest sense: "Yes, you can simply enjoy Tlingit art by just looking at it. But why not experience the whole thing?" he asks (290). "[The art] is alive. It is infused with soul, spirit, and meaning. I like to think that it is the best possible destiny an artist could hope for their art, even what a work of art would want for itself" (289). Here Hope eloquently demonstrates why art histories need unsettling—to create space for paradigms this rich and multilayered, this Indigenously grounded, by which to transform discourse into practice.
Beyond the offerings I have mentioned, Unsettling is an enjoyable source to learn about emerging research and writers in its field, building upon 2013's Native Art of the Northwest Coast: A History of Changing Ideas (but far more portable). For humanities scholars attuned to material culture, museum practitioners, and Indigenous art enthusiasts more broadly, the book is generous in ideas and exemplars to better understand ancestral and current arts holistically and to set new directions for engagement at museums and galleries. It convincingly argues and models that the key to "unsettling" is to embrace the poetics, the practice, and the action of these artworks by hearing the community members who know them best. Ultimately, the book looks optimistically at the future for its discipline, and others, unsettled from the colonial discourse and non-Native biases from which they formed.