Inviting Interruptions: Wonder Tales in the Twenty-First Century (Series in Fairy-Tale Studies)
Edited by Cristina Bacchilega and Jennifer Orme. 2021. Detroit: Wayne State University Press. 254 pages. ISBN: 9780814347003 (soft cover).
---
Reviewed by Jeana Jorgensen, Butler University
[Review length: 625 words • Review posted on September 1, 2021]
---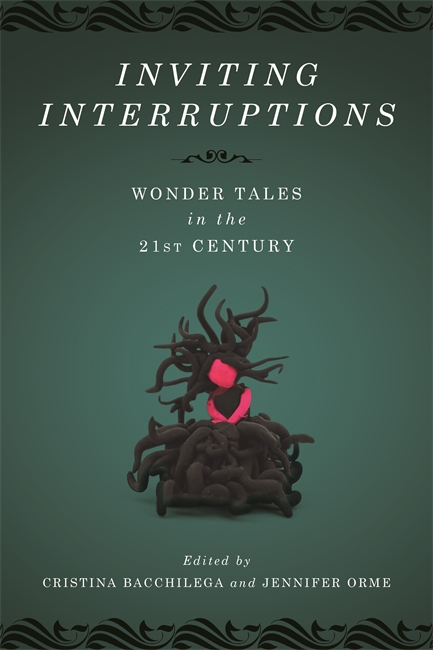 This anthology of fairy tales – both written and visual texts – offers a highly curated, thoroughly stimulating glimpse of the variety of wonder tales in recent decades. Renowned fairy-tale scholars Cristina Bacchilega and Jennifer Orme pair texts with critical notes, gifting readers with insights, questions, and ample food for thought, in a volume that promises to be useful in a variety of contexts (as a teacher and author myself, I can envision multiple reasons for returning to this book).
The introduction alone is worth picking up the book for, as Bacchilega and Orme provide a useful history of fairy-tale scholarship as well as a roadmap of recent pop culture attitudes toward fairy tales, for instance touching on the continuing fascination with the "dark" and "original" texts that the public constantly rediscovers. With keen attention toward intersectional issues, Bacchilega and Orme situate fairy tales in terms of the identities they highlight as well as those they conceal: gender, sexuality, race, ethnicity, class, disability, and more. The volume is notable for its inclusion of Middle Eastern, Jewish, Pacific Islander, and Caribbean voices among others, which do not necessarily fall within the popular delineation of what counts as fairy tales and for whom. Similarly, disabled, queer, and other non-normative voices appear within the stories, centered rather than marginalized. Finally, within the introduction Bacchilega and Orme provide some tips for engaging with visual representations of fairy tales, which is quite useful, as not everyone has fine arts training. I can imagine using these guidelines to walk students through encountering the visual arts and looking for meaning therein, which seems to be an especially key takeaway given that much of the fairy tale's presence in (American, at least) popular culture is visual, in the form of animated films, storybooks, dolls, and so on.
Of the twenty-four texts included in this volume, all but three were published in or after the year 2000. The editors justify this choice as helping to demonstrate that the seeds of the twenty-first century wonder tale were sown before the magical stroke of midnight when the new millennium began; rather, the texts included by Emma Donoghue, David Kaplan, and Rosario Ferré (who writes in Spanish) lay important groundwork for queer and questioning narratives. Fairy-tale fans will recognize retellings by contemporary speculative fiction authors such as Kelly Link, Danielle Wood, Nisi Shawl, Susanna Clarke, and Sofia Samatar, while other names may prove new and delightful surprises.
Many of these texts are available elsewhere (such as on the internet, which is where I first read Maya Kern's gorgeous and haunting comic "How to Be a Mermaid"), but what makes this collection valuable is the juxtaposition of texts and the editors' artful interrogation of their common themes. In their notes on each text, Bacchilega and Orme draw comparisons between many of the texts and ask readers to put these texts into the context not only of fairy-tale criticism but also, potentially, into the contexts of the broader world. The extraordinary novella "Among the Thorns" by Veronica Schanoes revisits the history of antisemitism in fairy tales from the Grimms' collection, a bias that remains unfortunately all too relevant, while Diriye Osman's piercing short story "Fairytales for Lost Children" intertwines fairy tales with the experiences of an immigrant boy facing bigotry, homophobia, and colonialism.
The stories and artworks in this book both invite and interrupt; not a single text is ho-hum, delivering a staid happily-ever-after. These are beautiful pieces that promise to reward curiosity, though with pleasure or pain depends on the text and on the reader, and the editors have framed the pieces with exquisite care and attention to detail. My only complaint is that I wanted more by the time I had finished the book.
Jeana Jorgensen
Butler University