Category: Music and Dance
Vinyl Ventures: My Fifty Years at Rounder Records
By Bill Nowlin. 2021. Sheffield: Equinox Publishing. 334 pages. ISBN: 9781800500068 (soft cover).
---
Reviewed by Richard Jones-Bamman, Eastern Connecticut State University, Emeritus
[Review length: 570 words • Review posted on September 30, 2021]
---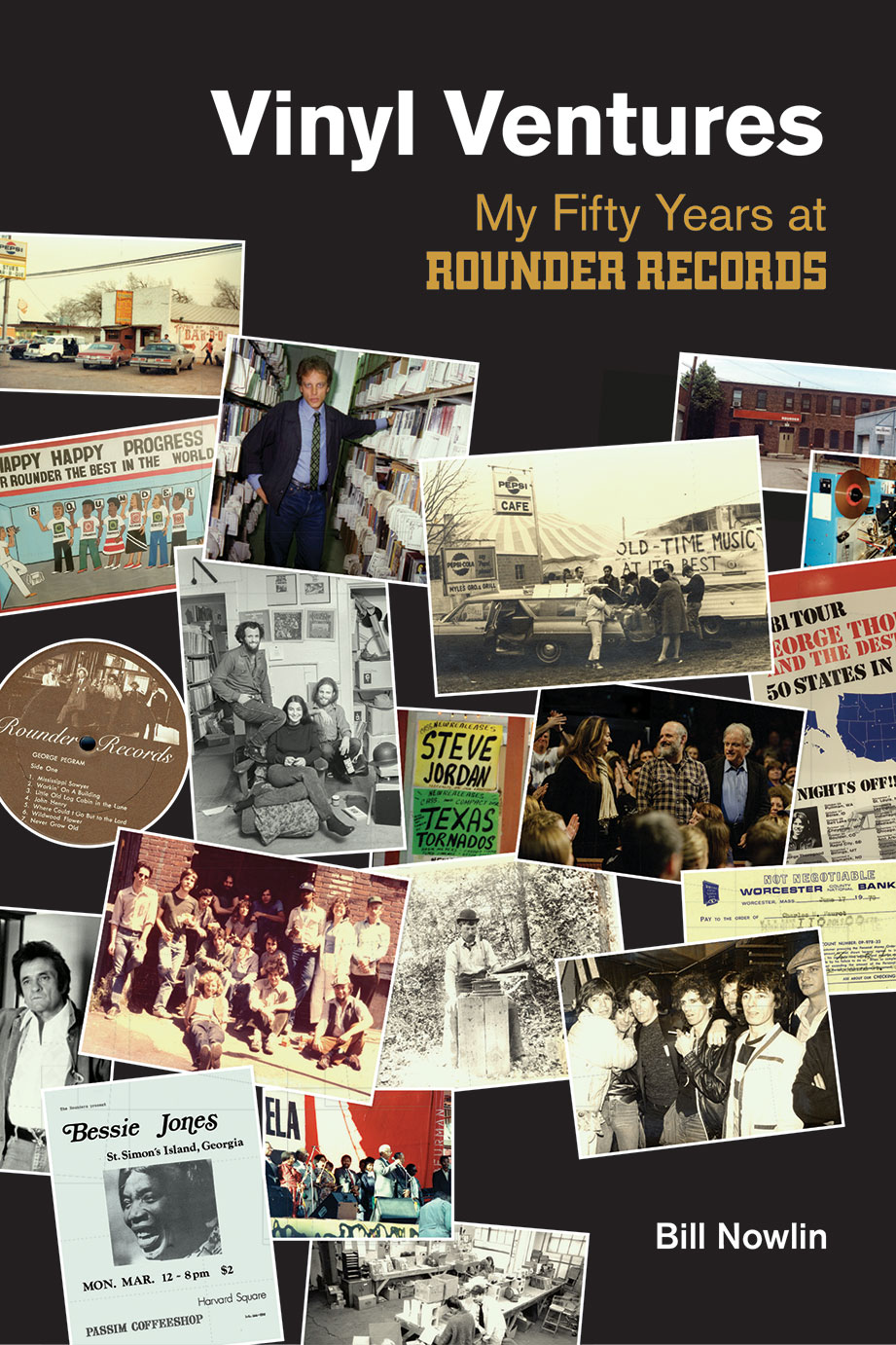 As the title of this book suggests, this is a memoir by Bill Nowlin, one of the three founding members of Rounder Records; the other two were Marian Leighton Levy and Ken Irwin. Starting in 1970, this trio created what eventually became one of the most successful independent record companies in the world, a journey that is described in detail in this volume from the author's admittedly subjective perspective.
For those familiar with this company and its seminal role in recording and distributing music that was often overlooked by more profit-driven enterprises, the first three chapters in particular provide a stark reminder of just how perilous this undertaking could be from a business perspective. Yet Nowlin continually reminds readers that he and his partners were driven initially not by profit, but rather by a concern to preserve what they determined were endangered artists and musics. Given the access we now have to similar materials, whether commercial or archival, it is easy to forget how dependent many of us were on small record companies for much of the latter half of the twentieth century to enrich our musical interests. To the author's credit, he positions Rounder as one among several similarly focused labels (e.g., County, Alligator), at least in its early days when the founders operated from a shared house in Somerville, Massachusetts.
With each subsequent chapter, however, Nowlin focuses more on the business transactions that gradually turned this collectively run company into a much larger enterprise, a process that involved acquisitions and partnerships that can be very difficult to follow, especially if one has limited knowledge of how the music recording industry functions. I have past experience as both a partner in a small record company and as the record buyer for a retail business, and still found much of the author's narrative unnecessarily burdened by information that tighter editing would likely have eliminated. Yet in fairness, Nowlin makes it clear that his role among the Rounder founders was more business oriented, while Leighton Levy and Irwin tackled other tasks to which they were drawn, such as overseeing recordings and seeking out new artists or revitalizing older musicians' careers.
The strength of this book lies in its stated function as a memoir, a genre that typically focuses more on an author's personal details than on broader societal issues that may have been in play. Some of these are admittedly addressed in the last chapter (Afterword) in which Nowlin describes his family and his childhood, but for those seeking to understand Rounder Records in the expanded context of the folk music revival and the growing interest in so-called Americana or roots music, this book comes up short. Thankfully, much of this information has already been made available in Michael Scully's book published in 2008: The Never-Ending Revival: Rounder Records and the Folk Alliance. Nowlin acknowledges Scully's work in several places, even using interview excerpts with Leighton Levy and Irwin to strengthen his own explanations of specific issues or memorable moments in the growth of the company. Consequently, I recommend prospective readers consider delving into both of these books, for they complement one another very well. Whereas Nowlin's memoir provides an intimate view into the travails and triumphs of a small record company at a time of great change within the music industry, Scully's book tackles the broader cultural context that clearly influenced and impacted Rounder Records and its peers within that industry.